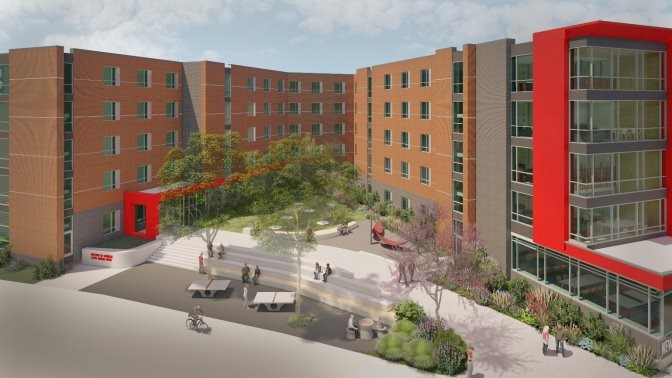 The University of Louisville today celebrated the opening of a new residence hall for first-year students in the heart of Belknap Campus.
The traditional-style hall is the second to open in two years on Belknap Campus, providing modern, affordable housing that goes to the heart of student success.
Called New Residence Hall (NRH), the building will accommodate 450 primarily first-year students in one- and two-bedroom units on five floors. It will also be home to UofL's new Center for Engaged Learning, where  students can find hands-on job and research opportunities.
"We know students, especially in their first year, thrive when they are immersed in the college experience," said Lori Stewart Gonzalez, interim president. "This new hall and its twin neighbor place 900 first-year students as close as they can be to the Swain Student Activities Center, the Interfaith Center, Ekstrom Library, numerous classroom buildings and our beautiful outdoor spaces."
As part of its strategic plan, UofL has invested $87 million in these two Belknap Campus student housing projects over the past two years. Last year, UofL celebrated the opening of NRH's neighbor and twin, currently named Belknap Residence Hall.
"The opening of this new residence hall is a culmination of over a decade of planning and implementing capital improvements to make the University of Louisville a vibrant learning and residential community for our students," said Michael Mardis, vice president for student affairs and dean of students. "We at the university are excited to see a large number of new freshmen and returning students choosing to live on campus this year. Students who live on campus both here at UofL and nationally are more likely to be successful students."
To make room, UofL demolished Miller and Threlkeld halls, which had been home to first-year students for close to six decades.
"Our new residence halls have the amenities students are looking for in the 21st century and will contribute to their success," said Tom Hardy, executive director of university housing and the resident experience.
NRH was designed with input from students and offers common areas with abundant natural light, classrooms, private study rooms, a game room, a kitchen and several laundry areas. It also features private bathrooms.
Messer Construction was tapped to complete the project. During the ribbon-cutting ceremony, Messer's Jason Larkin said the company wanted to "meaningfully engage students" throughout the building process and created five co-ops for students to work on the project. Three of those students have since graduated and are now full-time employees at Messer. 
"I had the opportunity to tour the New Residence Hall shortly before construction was complete," said Dorian Brown, 2022-2023 president of the UofL Student Government Association. "I thought it was pretty cool seeing a friend of mine who graduated from UofL after my freshman year, was on the construction team and was involved in bringing the New Residence Hall to life!"
A time capsule focused on the construction years of 2021 to 2022 was placed near the building's dedication marker by the main door. It holds items such as the university's strategic plan, a message from Gonzalez, Covid tests and masks, a newspaper marking the start of the war between Russia and Ukraine and sports updates.
In addition to these halls, UofL Athletics will soon celebrate the opening of the new 128-bed Denny Crum Residence Hall near the basketball practice facility.