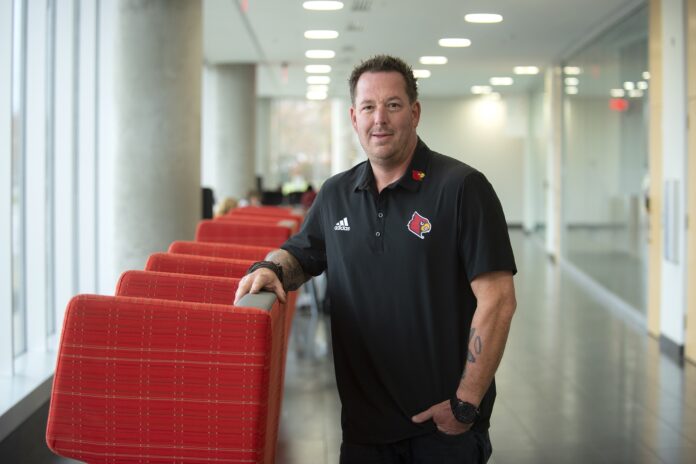 Rob Elliott is a University of Louisville carpenter in Physical Plant.
"I am a carpenter for Belknap and Athletics facilities," Elliott said. "As a carpenter, I do everything from installing TVs, repair doors, repair windows, drywall, metal stud framing and flooring. I learn new things every day at UofL."
And not just in his daily work.
When the ceremony concludes, he will help the crew take it down.
"I have been working UofL commencement for eight years now and I love it.  I love seeing the kids at that moment of their lives and what they have accomplished to get to that one moment," he said. "I will be working the December Commencement and then at 7 p.m., I will take my seat and receive my diploma with the other graduates.  After commencement, I will finish the job with my coworkers and go home to my family to celebrate! "
Absent from the celebration but always in his heart will be his 19-year-old daughter Halle, a UofL freshman who was in her second semester when she died in an automobile accident in February.
"I struggled with no longer seeing her on campus, no longer taking her to lunch, no longer being able to enjoy having her on campus with me at such a turning point in her young life.  Not a lot of parents have that opportunity and I never took it for granted," said Elliott, 48. " Even though she is no longer here, I wasn't going to give up everything I have worked so hard for.  She would be so proud of me!  Daddy did it Halle!" 
Elliott enrolled in UofL in 2017 and, using the employee tuition remission benefit, took two classes a semester while working full time. He had previously earned an associate's degree in science from Sullivan College in 1997.   
"Working for the university and having this amazing opportunity to further my education was an opportunity I could not pass up," he said. " With this degree, I hope to have more opportunities open up and advance my career with UofL. I tell everyone you are never too old to go back to school. Having that degree is a huge accomplishment.  No one can ever take that away from you!  I feel so blessed to be able to accomplish my goals and I want to inspire others to do the same."