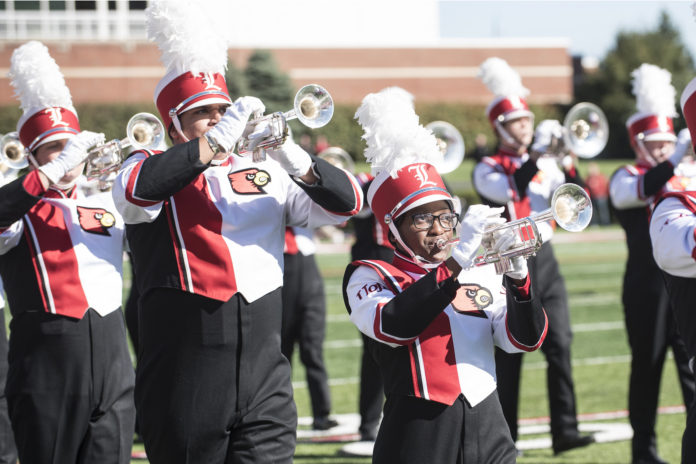 Eleven members of the Cardinal Marching Band have been invited to be among nearly 1,500 nominated performers from 200 bands in 45 states and Puerto Rico participating in the College Band Directors National Association (CBDNA) Intercollegiate Marching Band (IMB) National Halftime Show on Monday, Jan. 11.
Joining in unity during the worldwide pandemic when college marching bands have been forced to the sidelines, the IMB will keep the spirit alive by performing Beyonce's "End of Time" at halftime during the College Football Playoff National Championship game between the Ohio State Buckeyes and Alabama Crimson Tide. The game begins at 8 p.m., Monday, Jan. 11; halftime is expected near 10 p.m.
The virtual college marching band show will be shown to the game's spectators at Hard Rock Stadium in Miami Gardens, Florida. It also will livestream on the CBDNA IMB YouTube channel.
Each UofL student was invited by Cardinal Marching Band faculty to submit their performance video for inclusion in the show. The CBDNA IMB does not have information on the number of students that actually submitted a video, so not all 11 students may be in the final performance.
The IMB performance will showcase all of the unique aspects of a college halftime show including musicians, drum majors, color guard members, dancers and majorettes. The students invited to perform from UofL are Samara Hall, Gage Higdon, Natalie Humble, Kirk Knight, Michael LaRoche, Steffany Lien, Torien Miles,  Alanna Parham, Miranda Phelps, Allyson Reininga, Ben Rigor, Joshua Stump and Allison Trostle.
"During these challenging times, we are excited that CBDNA, along with some amazing partners, can offer an event so positive to collegiate band programs across the country," said Barry Houser, chair of the CBDNA's athletic bands committee and director of the Marching Illini at the University of Illinois at Urbana-Champaign. "Students in college bands have been forced apart due to COVID-19, but the virtual Intercollegiate Marching Band will be an event that will bring together nearly 1,500 college marching band students, virtually unified as one band."