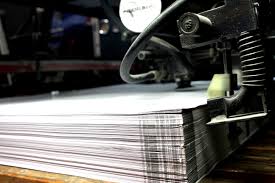 UofL has entered into an agreement with the world's largest imaging company, Canon Solutions America, to reinvent managed print and related services on campus.
UofL and Canon have signed a 13-year deal in which Canon will bring a total campus managed print solution to the university. Beginning July 1, Canon will be responsible for all print production and mail services, as well as equipment and supplies. The deal is expected to benefit the university immediately and for the long term, said Mark Watkins, UofL associate vice president of business services.
"During a time of increasingly tight budgets, the university must look for ways to operate more efficiently," Watkins said. "Most importantly, this deal will ensure that we continue to offer a high level of customer service to our faculty and staff. But it also will guarantee an income stream that will allow us to keep up with the latest technology and trends in these areas."
Canon will quickly implement several changes, including:
Placing new multifunction copying devices in offices, libraries and public spaces that will increase availability of color and reduce cost per print
Opening a new print and mail center in the Herman and Heddy Kurz Pavilion in the Student Activities Center
Offering the ability to access any Canon device from a tablet, laptop or cell phone
The deal will save the university about $300,000 in the first year. Future savings are expected to approach $700,000 per year.
The transition will directly impact 19 current print shop and postal services employees. Canon representatives met with the staff last week to discuss the transition. According to Bob Knaster, UofL executive director of business services, the Canon representatives "highly value" the institutional knowledge of the team and have expressed interest in hiring as many current employees as possible.
"The anxiety the employees are feeling is understandable," Knaster said. "But Canon has made it clear that they want to work with current staff as much as possible. And the university has made it clear to Canon and to the employees that we will work with them to make this happen.
"Canon has expressed a strong commitment to a long-term partnership," he added. "Our faculty and staff can expect outstanding service while gaining the technological advances Canon will provide throughout the contract period."
For more information, send email to: Wlbarn01@louisville.edu.