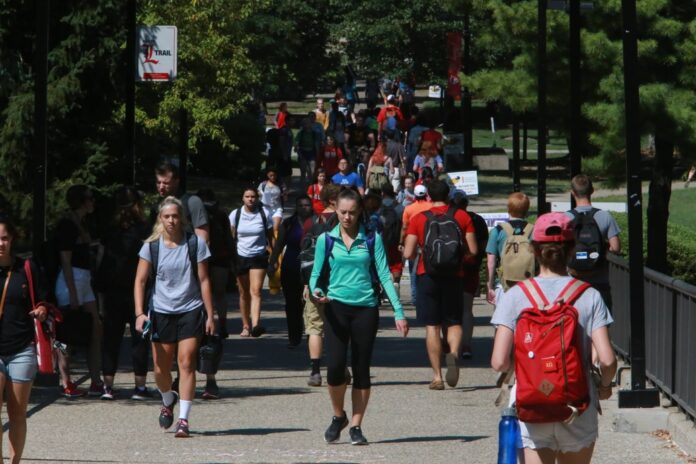 University of Louisville finances are "healthy" and "stable," according to administrators who were on hand for the board of trustees' annual budget workshop. Representatives from the university's senior leadership submitted drafts of the 2022-23 operating and capital budgets to the Board of Trustees for review at the May 26 workshop.
Interim President Lori Stewart Gonzalez said next year's budget priorities are both mathematically and strategically balanced and correlate to action plans outlined in the university's 2019-2022 strategic plan.
"We are investing in the things we value the most – our students, our faculty and staff and our university," said Gonzalez. "We strove to develop a budget that reflects our values and what our community thinks is important to institutional success."
The FY 2022-23 proposed budget accounts for a 0.0% tuition rate increase for undergraduate students and the development of a new Cardinal Commitment financial aid program that will supplement other forms of financial aid to help ensure full cost of attendance for resident Pell-eligible students. Commitments to increased student persistence funding and graduate student stipends are also among the financial priorities. The next fiscal year will also see the opening of two new residence halls, the Center for Engaged Learning and the Center for Military-connected Students.
Even with a $110 proposed student fee increase, UofL's tuition, fees and housing are less than or consistent with such costs at other universities throughout Kentucky. Dan Durbin, executive vice president for finance and administration, noted that $100 of the student fee increase was necessary to help fund the university's match for the state's $80 million of asset preservation dollars and ongoing improvement of conditions and safety of classrooms, buildings and infrastructure. An additional $10 will support student programming and the Disability Resource Center. He added that the proposed fee increase was vetted through the Student Government Association.
Compensation and benefits are the investments earmarked for faculty and staff. If the budget is approved, a cost-of-living salary increase of 2.5% will take effect July 1, 2022. The minimum starting wage for regular full-time and part-time staff will also increase to $14.75 per hour with efforts underway to further increase that to $15 per hour by early 2023. The budget also continues the current employer retirement contributions (7.5% automatic, plus 2.5% match) and 100% tuition remission for employees and dependents. Further, employee health insurance premiums will be frozen for the first half of the fiscal year.
Investments in the university itself remain budgetary priorities. Improvements, such as the Digital Transformation Center, web improvement project, deferred maintenance and a new customer relationship management system for Advancement, are among budgetary priorities that will help continue the university's external image and effectiveness. Fueled by the spirit of the new Here & Beyond brand campaign, investments in the university's community resources, such as UofL Health and the Christina Lee Brown Envirome Institute, will showcase UofL as a premier metropolitan university.
According to James Begany, vice provost for enrollment management and student success, even in the face of declining enrollment figures nationwide, UofL remains steady in its enrollment performance. Efforts to monitor and prepare for future trends in enrollment continue, and several growth and contingency planning strategies are built into the proposed budget.
Revisions to the proposed operating and capital budgets will be made based on feedback from the university trustees. The board will then formally consider the budget at its June 23 meeting with implementation of the 2022-23 operating and capital budgets to begin July 1.
Durbin emphasized that input from faculty, staff and students was essential to developing the proposed budget. As an example of that buy-in, Durbin noted how he and Interim Provost Gerry Bradley have been meeting with every university dean to assess the financial situation of each of their units. He said these meetings have been productive and feedback has been valuable.
"Engagement and accountability are keys to the positive financial performance of our university," said Durbin. "This budget is not the work of just a few people. This is a product of our university community's commitment to success."