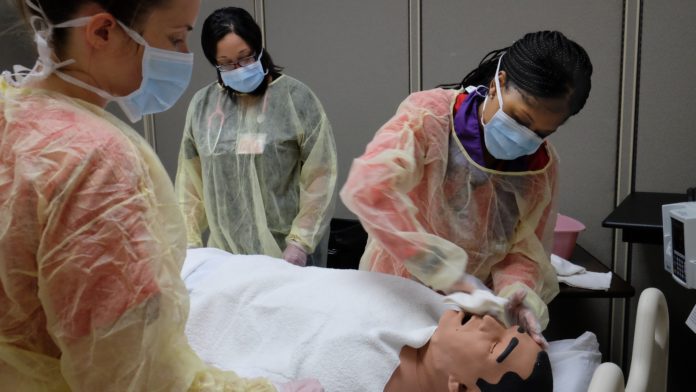 The University of Louisville School of Nursing is relaunching its accelerated second-degree Bachelor of Science in Nursing program, as the need for nurses is critical right now. 
"It's vital to help ensure the workforce needs are met across the state of Kentucky," said School of Nursing Dean Sonya Hardin. 
The accelerated BSN program, which is accredited by the Commission on Collegiate Nursing Education, is designed to provide an expedited pathway into the nursing profession and ideal for those with a bachelor's degree in another field who desire a career in nursing. The program will be offered in Louisville and the School of Nursing's extension in Owensboro, Kentucky.
The program makes it possible for students to earn a degree in as few as 15 months, or four semesters. The program will be offered in a hybrid format, allowing students a more flexible format to embrace the benefits of online education and in-person learning. Lecture content will be offered online, with in-person clinical experiences. The blended instruction will provide students flexibility in completing their coursework. Graduates will be prepared for taking the national licensure exam (NCLEX) upon graduation.
"The School of Nursing faculty possesses a wide variety of teaching and practice expertise and incorporates opportunities for students to provide care to diverse patient populations in hospital and community settings," said Assistant Dean of Owensboro BSN Programs Amy Higdon.
Applications for the accelerated BSN program begins in November 2021 for the first cohort and classes will begin in May 2022.
More information is available online here. 
Story written by Adrianne Kelly, marketing specialist and events coordinator, UofL School of Nursing.