On behalf of UofL's College of Arts & Sciences, the Department of Political Science, the Office of the Provost, President Neeli Bendapudi and the Board of Trustees, the University of Louisville presented a posthumous bachelor of arts degree to the family of Joseph Andrew Cecil last week. 
Due to his battle with cancer, Andrew left UofL in 2009 just shy of his graduation date. He died in 2011.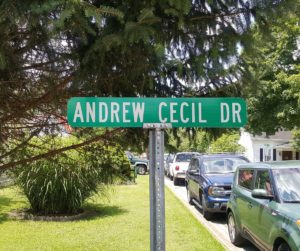 Seven years after his death, Andrew became the first in his family to earn a college degree. 
The degree was presented to Andrew's family by Political Science Professor Jasmine Farrier. In attendance at the ceremony was Senator Jimmy Higdon, a friend of the Cecil family, who wrote the following tribute on his Facebook page: 
Yesterday I had the occasion to recall memories of a great young man Andrew Cecil. He attended University of Louisville and majored in Political Science. He was a hard working and dedicated A student. He never complained even though he was fighting cancer at the same time he was attending UofL. He was taking the last class he needed to graduate but could not finish due to his declining health. He withdrew from the class and a short time later he lost his battle with cancer. He died in October of 2011 at age 25.
Andrew was a very proud young man.
He was proud of his family, he was proud of his Marion Countpy community and he was proud to be a student at UofL. He was also very proud of the fact that he would be the first in his family to finish college. Andrew was never strong enough to go back and finish that last class. It looked like the degree he was so looking forward to hanging on the wall and being the first in his family with a college degree would never happen. Yes it appeared that that chapter had been written
and Andrew's dream had died with him.
His sister Tina set out to try to get his diploma so her parents Elain and Jim 
could cherish it as a remembrance of Andrew. With a great deal of help from the President's office at University of Louisville and Political Science Chair Professor Jasmine Farrier, Andrew's diploma was delivered to his family in Lebanon yesterday. What a great event
to be invited. Not a dry eye in the back yard of the Cecil residence. In the shade of a giant pine tree planted by Andrew at age 5.
He had gotten the from a soil conversation event. The pine sprig was about the size of a pencil. He was told by his brother that that tree would never live. Andrew told him the man said if I water it and talked to it that the pine would grow very tall. Yes it did grow and serves as a reminder of a outstanding young man that went home to his maker at a very early age.
With the presentation of Andrew's 
diploma to his parents on Saturday by Professor Jasmine Farrier, Andrew's dream of being the first in his family to get a college degree was accomplished 7 years after his death. What a great day for the Cecil family.
Congratulations Andrew. You did it.
None worked harder or deserve this 
recognition more than Andrew and his family.
My closing comments are that all this was possible because The University of Louisville had a heart. They made this happen because they cared. The University went the extra mile and had Andrew's diploma deliver by the head of the department Jasmine Farrier to the Cecil's home in Lebanon.