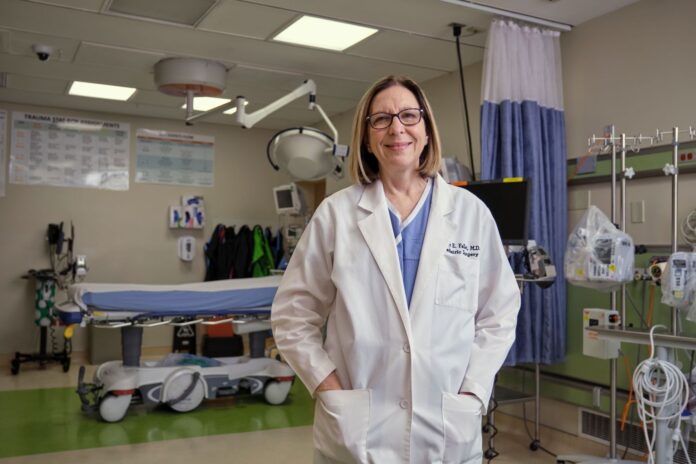 The University of Louisville School of Medicine and Norton Children's Hospital will serve as a leader in the integration of trauma and burn care into a national network of pediatric response centers to build on preparedness efforts for future health disasters and global health events.
The Health Resources and Services Administration has awarded more than $1.2 million over 5 years to the UofL and Norton Children's project, out of a $48 million award to establish a Regional Pediatric Pandemic Network. The amount awarded to UofL and Norton Children's is expected to grow throughout the next four years. The project will involve preparing for global health threats, including pandemics, and supporting communities in everyday pediatric readiness.
Charles G. Macias, chief quality officer at University Hospitals  Rainbow Babies & Children's Hospital in Cleveland, will lead the project. Mary E. Fallat will head the UofL and Norton Children's effort.
"We began this work before the global pandemic, and 2020 proved how important it is for hospitals, health care infrastructures, government and private entities to work together to create a coordinated emergency response model," Macias said. "This grant is an amazing opportunity to grow a national model whose impact can inform all aspects of pediatric preparedness, from daily efforts to global health threats."
The network brings together five children's health care facilities but also creates a network of networks—including the nation's only two federally-funded Pediatric Disaster Centers of Excellence, which are funded through the Office of the Assistant Secretary for Preparedness and Response and the work of the Emergency Medical Services for Children Innovation and Improvement Center, funded through HRSA's EMSC program.
The Regional Pediatric Pandemic Network includes:
UH Rainbow Babies & Children's Hospital, affiliated with Case Western Reserve University, Cleveland, Ohio  
University of Louisville School of Medicine Department of Surgery and Norton Children's Hospital
University of California San Francisco and its Benioff Children's Hospital, Oakland, California  
University of Utah and Primary Children's Hospital, Salt Lake City, Utah
Saint Louis University and Cardinal Glennon Children's Hospital, St. Louis, Missouri
This network of children's hospitals represents a broad geographic diversity and will serve as a hub-and-spoke model of expertise to support efforts for pediatric readiness and disaster/pandemic preparedness by incorporating specific focus areas, called "domains," such as trauma, equity, analytics and others, to define best practices as supported by the ASPR, HRSA, EMSC, and other existing workgroups.
Norton Children's Hospital will be the hub for integration of trauma and burns into the network, and Fallat is the principal investigator for the site. The hospital is well positioned for this effort as it has been a leader in pediatric trauma care for the region since the late 1980s, when the hospital administration supported Fallat's efforts to build a trauma program at the hospital. Norton Children's Hospital is a Level I American College of Surgeons verified trauma center led by David Foley.
Thanks to support from the community through the Norton Children's Hospital Foundation, the trauma program remains a regional center for the highest level of emergency care for children. The foundation plans to raise an additional $5 million to further advance the care available to children from throughout Kentucky, Southern Indiana and beyond. 
"This is extremely important work from a number of perspectives," Fallat said. "The first is that current efforts for national and state preparedness often forget about children. The second is that trauma still claims the lives of more children in this country annually than any other cause. The third is that efforts to prepare for mass casualty events in different domains such as infectious diseases, trauma, natural disasters and others – often operate in silos, and this grant will unite them. Lastly, there is a need in all hospitals to build 'pediatric preparedness' into the emergency department structure and function, and adult providers need to be a part of this.
"We need to build confidence in community surgeons/emergency providers/trauma teams. Many rural medical providers are used to caring for adults and experience added stress when they are called on to care for children. They want to provide the care but realize and are distressed by a sense of higher stakes," she said.  "A goal should be to build a team that can, together with the surgeon, support each other to provide their best care to kids. Extrapolating to the grant at large, this seems a reasonable goal for all aspects of emergency planning."
The UofL portion of the project also will involve Kristina K. Bryant, professor of pediatrics, system pediatric epidemiologist and infection control, UofL Division of Pediatric Infectious Diseases; Beth Spurlin, assistant professor of pediatrics at UofL and director of EMS and mass casualty at Norton Children's Hospital, and Gena Cooper, assistant professor of pediatrics and emergency medicine at the University of Kentucky and Kentucky Children's Hospital.  
"The pandemic's impact on children and the health care systems that care for children extend beyond the diagnosis and management of infectious diseases to challenges with access to care and a behavioral health crisis," said Daniel Simon, president, academic and external affairs and chief scientific officer, UH. "This new network will help to accelerate research-informed pediatric care transformation for sick and injured children across national organizations and infrastructures and we are proud to be leading efforts here in Cleveland and the nation."