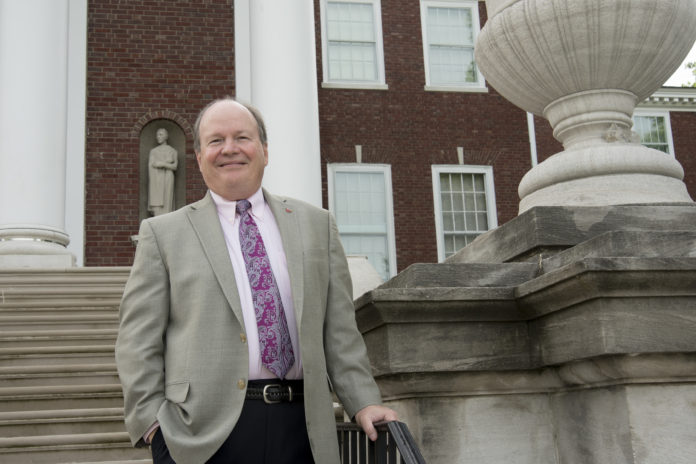 Keith Inman earned his bachelor of arts degree from UofL in 1978. His career started at his alma mater shortly thereafter, when he was named director of national alumni clubs in the Alumni Association.
His path eventually took him to other places – an insurance business in Elizabethtown, the University of Maryland, Cary, North Carolina, and Jewish Hospital in Louisville. But he often came back to UofL; since 1978, Inman has served in a variety of capacities on both the Belknap and HSC campuses.
In 2006, Inman was named VP for University Advancement for UofL and has served in that role since. At the end of this month, he will retire from the university before embarking on a new adventure as president of Kosair Charities. 
UofL News had the chance to talk to Inman about his nearly 40-year career, what kept him coming back to campus throughout those years, and what he will miss most about working for his alma mater.
UofL News: What made you want to stay here to start your career and return again after other opportunities?

Keith Inman: For me, UofL has always been home. It has been a good place to be from and a good place to be. Early in my career I was like a lot of young people: I had no clue what I wanted to be when I grew up, so change was necessary. As I learned more about myself, I knew I could make a difference here. I went to other places to learn, to get out of my comfort zone, be challenged, grow and to hone my trade. When I came back in 2006, it was with and for a purpose. That was to start and complete a campaign. One with a magnitude we had never done. It was a big goal, I knew given the time and resources we could do it.
UofL News: How have your roles at UofL differed? Are there any similarities?
Keith Inman: All have a development or fundraising purpose, so they were similar there. Each had a vision or role to be bigger, be the best and make a difference in their respective areas of focus. In each area, we came to work wanting to improve and compete at higher levels. So as I think about it, there are many more similarities than differences.
UofL News: What has been your biggest challenge at UofL?
Keith Inman: It is hard to think about one challenge, there have been several. Obviously, the issues we are facing now may be the largest, as it seems to be dragging on and on. I am sure we will get through them, as many people are working hard to heal and put these events in the rear view mirror. We have always faced challenges with people not understanding the process of philanthropy, what it takes to be successful and the resources necessary to create a team.
UofL News: What would you consider your biggest personal accomplishment here?
Keith Inman: I don't really think about my accomplishments, I think about our accomplishments. No one does it by themselves. There is a team behind everything. (Inman's wife Susan) and I have raised two outstanding kids. Gary the oldest is about to graduate from the Culinary Institute of America in New York. He is passionate, hard-working and driven to create. James, the youngest, is a junior at Bellarmine. He is a very good student and a great golfer. James works hard and is driven to be the best. Both are little comedians. We are very proud of each.
At UofL we have many accomplishments. The team broke 10 records in a row for fundraising production. We have established a world class Alumni Association. Advancement Services operates at a very high level with almost no mistakes. We have hired great people. When we started, Advancement was the gang that could not shoot straight; we had issues. Now we are the department that is held up as a place that is a Best Practice organization. Again, we did this together.
UofL News: What is your favorite place on campus?
Keith Inman: Crawford Gym … No wait … Actually, the Quadrangle between the Library, Life Sciences and Humanities. It is beautiful and peaceful.
UofL News: How has the role of advancement changed throughout your career, if at all?
Keith Inman: There have many changes. It used to be an art. With technology, it has also become a science. It is still a people business and one that is done face to face. It is about the human experience and it is about the relationship. It is about something bigger than you. It is not about you, it is about the donor and the project.  It more important now than ever. As other sources of revenue and budgets decrease, this is an area that theoretically can produce an infinite amount of funding, if proper resources are supplied. It has always been about the ask and the stewardship. We all need to do a better job with the stewardship.
UofL News: What will you miss most about UofL?
Keith Inman: I know everyone says the people. I will do the same. I will miss the people. After all, what else is there?  
Retirement reception scheduled July 19
A retirement reception will be held for Inman July 19 from 4-6 p.m. in the University Club Ballroom. A short program will begin at 5 p.m. RSVP by Friday, July 14 via email.