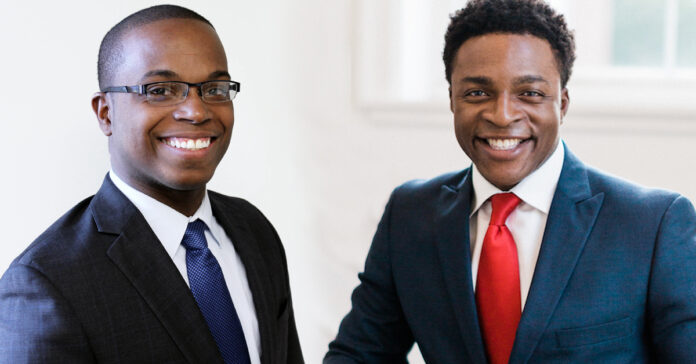 UofL alums OJ Oleka ('10) and Terrance Sullivan ('09, '12) recently teamed up to start AntiRacismKY, a coalition focused on rooting out institutional racism in Kentucky state and local government policy.
Oleka, who graduated from UofL with a bachelor's degree in marketing and a minor in political science, is president of the Association of Independent Kentucky Colleges and Universities. Sullivan, executive director of the Kentucky Commission on Human Rights, graduated from UofL with a bachelor's degree in political science, law and public policy, and a minor in economics and later earned his JD from Brandeis School of Law.
UofL News talked to Oleka and Sullivan about their new coalition.
UofL News: Can you describe AntiRacismKY?
Oleka: AntiRacismKY is a coalition focused on rooting out any vestige of institutional racism in Kentucky state or local government policy. It is not an official organization, but rather a collection of hundreds of Kentuckians who want to finally deal with the problem of the remnant of institutional racism in Kentucky.
UofL News: What inspired you to start AntiRacismKY?
Oleka: After seeing the tragic deaths of Ahmaud Arbery, George Floyd and Breonna Taylor, Terrance Sullivan and I were texting one another and decided we had to do something. We concluded that gathering a groundswell of support to pass specific legislation was the best way we could help.
UofL News: What are your goals for AntiRacismKY?
Oleka: Our goals are to achieve some meaningful reform in several key areas: agriculture, education, economic development, housing, health care, criminal justice, wealth generation and the workplace. These are the areas we identified in which there could be some issues regarding the remnants of institutional racism that could be negatively impacting Black communities in Louisville and all over Kentucky. We hope to achieve a set of laws that allow people and communities to have full and total access to the American experience, unharmed from the remnants of a bygone era in American history.
UofL News: Why do you think AntiRacismKY and its work is so important?
Oleka: Right now there are portions of Kentuckians who do not have full access to the American experience. They do not have access to capital to start businesses, a quality education to get the skills they need to get employment, or the food, shelter, healthcare and wealth opportunities they need to sustain their family.
Sullivan: We have many people in Kentucky who are bursting at the seams with great ideas and strategies to improve lives and address some of these issues, but they don't feel welcome at the table. Many people have reached out to say they don't feel like they know enough or have the right background to effect change, and to that I say they are wrong. We want to encourage them to be part of the process, not just the usual voices.
UofL News: What do you think AntiRacismKY's biggest challenges will be?
Oleka: The biggest challenge will be coming to bipartisan agreement. Unfortunately, anti-racism issues have turned into a partisan debate designed to inflame people on either side of the political aisle.
Sullivan: Bipartisanship (or non-partisan work, if I have a say) is integral to getting things done. We need to make it clear that we are just tackling racism and that should not be a partisan or political issue.
UofL News: How do you plan to overcome that challenge?
Oleka: By speaking to the issues and explaining this is a benefit for all Kentuckians. When everyone has the opportunity to build a business, get a quality education and provide for their families, they are more likely to be contributing members of society, require less direct support from state and local governments and have a higher quality of life.
Sullivan: Another way we plan on overcoming these challenges is to be honest about our own positions. OJ and I are on different sides of the proverbial aisle, and I think that is important to note. …Having two people coming from different viewpoints to achieve the common goal can be powerful and encouraging for others to do the same.
UofL News: How did your experience at UofL help prepare you for your careers?
Oleka: It was tremendous help. I had the chance to serve as student body president, which gave me the opportunity to pull together a coalition of students to make the Student 2020 Plan, which was a set of five areas of improvement in the student experience. I have approached this work with that same vigor and even some of the same organizational structures of soliciting ideas and forming working groups.
Sullivan: UofL prepared me because I was able to learn how to advocate and use my voice. One thing that was encouraged in the Political Science department and in Honors was to do research and discover more about yourself, and to then use that to make changes you wish to see.
UofL News: Is there anything you'd like to encourage the people reading this to do?
Sullivan: Be informed. Learn more about the community around you.
Oleka: Get involved in your community in a civic way! Serve on a board, volunteer for a campaign and advocate for a cause. An engaged society is a vibrant society.