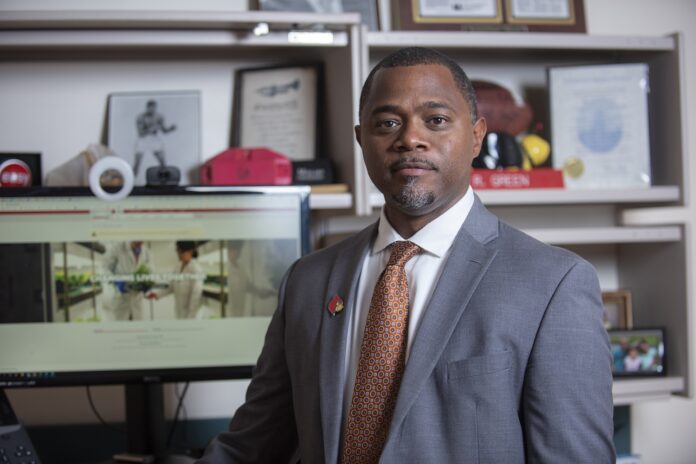 Raymond Green, a Louisville native, UofL alumnus and former Cardinal Ambassador, has been named executive director of undergraduate programs for the College of Business.
Green stepped into the newly created position following a six-year run as principal of Central High School. The executive director of undergraduate programs position was created to support the success of all students in the college, with particular focus on first-generation and Pell-eligible students. In his new role, Green will mentor current and prospective students throughout their UofL experience to ensure successful completion of an undergraduate degree and entry into the workforce or a graduate program. UofL News had the chance to talk to Green about his return to campus and his objectives in the new role. 
UofL News: Tell us about your path to UofL … and back?
Raymond Green: I was born and raised in Louisville. I love the city and our region. I went to Central High School, where I did really well in music. I had a couple of scholarship opportunities around the state, one being at the University of Louisville, which is where I did my undergraduate studies. I had a great time as an undergraduate in the UofL School of Music, where I earned my bachelor's degree in music education.
From there, I started teaching in the Jefferson County Public Schools at Central High School and Seneca High School. Then my wife and I decided we wanted to move to Houston, Texas. We lived in Houston for a year and we learned there are two seasons in Houston: summer and January.
So, we moved back to Louisville. My principal at the time saw something in me and encouraged me to pursue my master's in administration – and my wife encouraged me to do that as well. So I earned my master's degree in education administration from the UofL College of Education and Human Development.
Immediately I got a job as assistant principal at Meyzeek Middle School, where I spent three years. Then the principalship at Central High School – my alma mater – came open. I won that job and was principal at Central for six years. I had a lot of great experiences and was able to do a lot of great things there.
Then this opportunity at UofL came along to work at the College of Business leading the undergraduate program. It's been a great journey from Central as a student to Central as principal and now back to the University of Louisville.
UofL is a special place. It is, as Neeli says, a great place to work, learn and invest. I think that has always been true, but she was wise enough as our president to conceptualize it. More importantly, the university changes lives; education changes lives. It did that for me and now I want to be able to do that for other young people.
UofL News: What is one of your most memorable moments as a student at UofL?
Raymond Green: I had so many great moments! As an undergraduate student – maybe in 2002 – I was in the marching band, which as we know, plays at the Kentucky Derby every year. This particular year, Wynton Marsalis was a guest musician with the marching band. In between races, he said, 'Are there any tuba players who can lay down some B-flat blues?'
I said, 'I can lay down some B-flat blues!'
He just so happened to have his spoons player with him and all of a sudden, the infield turned into this New Orleans street jam with Wynton Marsalis, the spoons player and me. That was a once-in-a-lifetime experience.
As a doctoral student, I had the great opportunity to present at University Council for Educational Administration with several colleagues. That was my first taste of representing the city and the university on a national and global level. We presented the paper in the same room with New York University, Vanderbilt and Ohio State. That was my first taste getting to represent UofL as a Research I university. That really made me proud.
UofL News: How did UofL prepare you for success after graduation?
Raymond Green: Aside from receiving a world-class education in the classroom, I would say it was the diversity. The university does an incredible job of being proactive in trying to be inclusive and recognizing that the world is greater than the demographics of our city. Louisville is pretty diverse, but the university is even more diverse. So as a principal at Central, when I had 30 languages spoken at my school, that was comfortable for me because I had been in a similar environment at the university.
UofL News: How did being a UofL Cardinal Ambassador influence your life and career path?
Raymond Green: Being a Cardinal Ambassador was awesome! It was work-study, and in college you need money, so it was good for that. Also, it was good work experience in building people skills and learning how to be an ambassador and how to promote the school. It gave me the chance to see the university through the eyes of a potential student and that really translated for me down the road. As a principal, I had to be an ambassador for Central and say, 'Let me tell you why you need to come to Central,' and 'Let me share with you all the wonderful things about my school.'
Beyond that, being a student ambassador allowed me to see parts of the university that I never would have seen as an undergraduate tuba player. It broadened my horizons to know all of the programs and degrees that are offered here. It also instilled pride in the university a little bit more.
UofL News: What did you learn from your time at Central and Meyzeek that will help you guide students to and through UofL?
Raymond Green: Dr. Mooradian, our dean, is a great visionary. I think it is a brilliant move on his part to hire a high school principal from the public school system – whether it was me or someone else – to oversee undergraduate programs. We want to ensure that our first-generation students have access, opportunity and support. We want to make sure that our Pell-eligible students have access, opportunity and support. Coming from the public K-12 world, I know first-hand the challenges and hurdles that first-gen and Pell-eligible students will have.
From the university side, we can start to build systems and programs that will remove barriers and seek to identify talented students who just need a shot. Who is the kid that just needs an opportunity and, once we give them that opportunity, is going to shine like the sun?
UofL News: What do you hope to accomplish first as Executive Director of Undergraduate Programs in the College of Business?
Raymond Green: I want to talk to the students – listen to the students – and talk to the faculty. As a principal, I was at my best when I listened to the students and the faculty. That leadership lesson applies here as well, particularly being brand new to higher ed. My job first and foremost is to serve the students. Secondarily – maybe 1-A – is to serve the faculty. If I do that, the learners will win.
The first thing I want to do is ask, 'How can we support you? You picked us and we picked you. How can we support you to graduation? How can we support you to find a career that you are going to be passionate about and going to be successful in and thrive?'
Once I feel I have a good handle on that, we will start building out programs to increase our diversity and our enrollment into the College of Business.
UofL News: How do you plan to help first-generation and Pell-eligible students navigate the social and academic challenges of attending college?
Raymond Green: We had a great opportunity at Central High School for the last two years where we piloted a program called the Cardinal Bridge Academy, where we looked for students who knew they wanted to study business at the university, particularly seniors in high school. Then we offered them the CIS 205 course – one of the first courses every business student takes – as a dual credit course online. Once the student successfully passed that course, that counted as their admission to the university. There are many students who have a 3.5 GPA and a subpar ACT score, but by completing this course, they just demonstrated that they can do collegiate level work at a high level. To us in the College of Business, that is enough. We are not going to let the ACT be a barrier to admission.
We want to take this program that has proven to be successful at Central and expand it to other schools and even surrounding counties. I believe we are sitting on a surplus of talent and we want to say, 'Where is that talent, who are the children who need a shot?' I wouldn't be where I am today without higher education and I firmly believe that higher education is the ticket.
UofL News: What will be key in getting every student across the stage with a diploma?
Raymond Green: A few things. One is community. Students need community, a sense of belonging, a sense of ownership, a sense that, 'I belong here. I am a Cardinal business student.' I think back to my time as an undergraduate. I was so proud to be part of the tuba studio in the School of Music. There was a lot of identity baked into that.
It's also important that we have academic acceleration and academic support for our students. It's crucial that we support them academically as they progress through school.
We need to make sure we provide an incredible return on investment for our learners and give them drive and motivation so they can stay focused from semester to semester, year to year, and make it all the way to graduation.
It's recruiting and admissions; it's also advising and job placement. And if not job placement, then I know Vernon Foster wants them in the MBA program, so my job is to go get kids, make sure we support them while they are here, and then guide them to a great job or a great path to the MBA program.
UofL News: What else would you like to share?
Raymond Green: I am humbled, I am thrilled, I am honored to join the university in this capacity. I believe in the leadership of our president; I believe in the leadership of our dean and I believe the university is going in a great direction right now. Our best days are ahead of us.