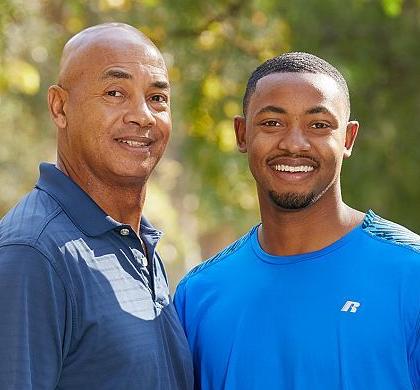 They may have gained Cardinal fame racing down the court or field, but lately fans can watch two alumni athletes speeding around the world this season on "The Amazing Race."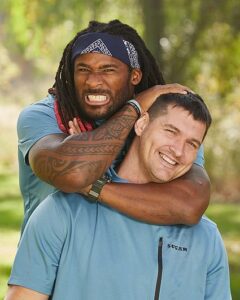 The CBS adventure reality show's 32nd season, filmed in 2018 but airing this fall, features father-son team Jerry Eaves '82 and Frank Eaves as well as Gary Barnidge '07 with his former Carolina Panthers teammate and former NFL division rival DeAngelo Williams.
The 11 two-person teams competing to avoid elimination and win $1 million travel internationally to speed via all modes of transportation and to vie through a wide array of endurance tests posing physical and mental challenges. By show design, there are lots of clues, speed bumps, pit stops, U-turns and detours along the way.
So far longtime friends Barnidge and Williams have made it through adventures (steel-drumming, goat-racing, watermelon-stacking and cream-whipping, to name a few) in Trinidad and Tobago, Colombia, Brazil, Paraguay and France. The duo heads to other countries for Wednesday episodes, most scheduled to air at 8 p.m. EST with some additionally at 9 p.m.
Spoiler alert, though: The Eaveses were eliminated in the third episode, thwarted in the Amazon by coming in last during the contest's tasks and clues, including a bag of market groceries left behind and an extra U-turn thrown their way.
The elder Eaves is athletic director and men's basketball coach for Simmons College of Kentucky and also hosts a weekday WKJK-AM radio talk show and podcast through his Eaves Sports Radio. Frank Eaves sells luxury vehicles in Louisville.
A 1998 inductee to the Cardinal Athletics Hall of Fame, the coach played point guard for Louisville as part of the 1980 NCAA Championship team and went on to be drafted by the Utah Jazz in 1982 and continue professionally with the Atlanta Hawks and Sacramento Kings; he is a 1998 inductee into the Cardinal Athletics Hall of Fame. It was son Frank, also a former collegiate basketball player, who talked his dad into becoming this season's oldest competitor at 59.
"From running this race I hope to strengthen an already tight bond with my father, as well as show him he has raised a great and capable young man," Eaves said in information posted to "The Amazing Race" site. "He is the best father I could have ever asked for and I want to give back by showing him his work didn't happen in vain or go unnoticed."
For former UofL tight end Barnidge and teammate Williams, "The Amazing Race" isn't the first time they've appeared or competed on a show or traveled the world. When Williams was on "Impact Wrestling," Barnidge joined him on an episode.
Barnidge also co-founded in 2011 the nonprofit American Football Without Barriers, which brings NFL players overseas to put on camps for adults and children and to visit charities in the various cultures.
The sport administration alumnus was drafted by the Carolina Panthers in 2008 and later played for the Cleveland Browns, making it to the Pro Bowl.
What did Barnidge hope to accomplish by embarking on "The Amazing Race"?
"Just get that adrenaline going again because when you are retired you don't get that competitive environment again, so this allows us to achieve that environment in a race around the world," the ardent traveler told the show organizers. "Also, just getting a chance to see so many countries is another big plus. Our main goal is to make it to every country."
Stay tuned.
Other former UofL athletes have fared well in the series, with sisters Kisha (basketball) and Jennifer (volleyball) Hoffman taking the prize in the season that aired in 2011.