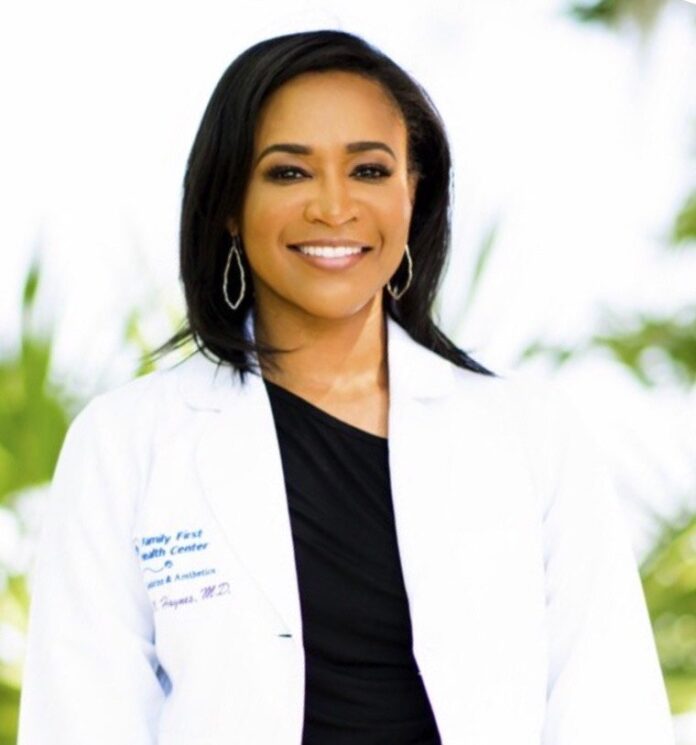 As someone who has always been a healer, Dr. Delicia Haynes ('00) was drawn to the medical profession from an early age.

When a medical emergency brought her to the doctor's office in the seventh grade, she wasn't scared as many would be. Rather, she was eager to meet someone who could mentor her as she too dreamed of one day seeing patients and providing care.
But when the experience turned sour, 13-year-old Haynes was left distraught.
"It was one of those moments I knew that when I became a doctor, I would be the type of doctor I wish I had," said Haynes. "I always see the seventh-grade version of myself popping up if I'm going to make a decision, and I ask myself, 'Would she be proud of me?'"
Although Haynes' first experience with medicine was memorable for all the wrong reasons, it did not deter her from turning her dream of becoming a doctor into a reality. After graduating from the University of Louisville College of Arts and Sciences with a degree in biology, she continued on to medical school.
Haynes, who overcame suicidal thoughts in high school, experienced another episode of depression during her second year of medical school. She made the difficult decision to take time off from school to receive treatment – a choice she knows was one of the most important decisions of her career.
"One of the challenging things of being someone who's very mission-driven and goal-oriented is it's really easy to lose sight of my own self-care," she explained. "As doctors, we're driven to take care of other people, but we're not really driven to take care of ourselves."
After getting the treatment she needed, Haynes returned to medical school stronger than ever. When it came time to do a research presentation in her family medicine residency program, Haynes chose the topic of suicide and depression among physicians.
Her findings shocked her. Thirty percent of medical school students are depressed, and physicians have one of the highest suicide rates among any profession. Male doctors have a 40% higher suicide rate than the general population, while that number skyrockets to 130% for female physicians.
"It's things that I felt like I should've known coming in and joining the profession, but no one told me this before I came into it. It's very hush hush," Haynes said.
Now, as the founder and CEO of Family First Health Center in Daytona Beach, Florida, Haynes has the mission of making a difference by delivering personalized healthcare with passion and respect. She is also on faculty with the College of Medicine at Florida State University.
With many of the diseases she treats being preventable, she takes the time to help others examine their lifestyle to see what changes they can make to be happier, healthier versions of themselves. Stemming from her personal experience, Haynes enjoys treating patients with depression and helping them through the process – something she is uniquely qualified to do. 
Just as she empowers her patients and students, Haynes felt empowered to finally break her silence on the issues of depression and suicide plaguing the medical community. When she lost her best friend and an FSU medical student to suicide in 2017, she knew it was time to share her story on a broader scale.
Her book, The Dawn: A Med Student's Roadmap to Finding a Light in Their Darkest Hour, is a valuable resource shedding light on suicide and depression among medical professionals. A self-identified introvert, finding the courage to tell her story and have her voice heard is something Haynes credits UofL for giving her the confidence to do.
"Being a part of all the different organizations that I was a part of and having the amazing mentors that I did, I started to get more comfortable with my voice and sharing," said Haynes, who was also a standout on the Cardinals' track and field team. "I loved everything about my experience at UofL."
The leadership roles she had on campus at UofL, combined with her experience as a student-athlete, prepared her well for her current role as a family physician. Just as she wants her patients to look and feel their best from the inside out, Haynes also makes sure to prioritize her own mental health and wellbeing. 
"Being a frontline worker and risking your life every day, wellness is more important than it has ever been," she said. "It's important for us to have a space where we can both be safe and brave, and make sure that while we're taking care of everyone else, we're also taking care of ourselves."
Haynes's book, 'The Dawn: A Med Student's Roadmap to Finding a Light in Their Darkest Hour,' is available for purchase on Amazon.