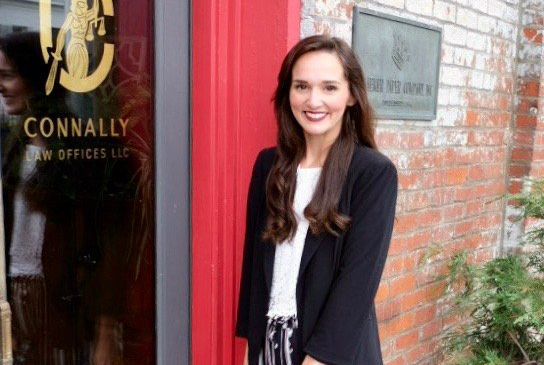 Mommy sues people for a living.
When asked what their mother did for work, this was the go-to response for Georgia Connally's children. Unnerved by their answer, she knew she needed a change.

Upon graduating from the Brandeis School of Law, Connolly ('15, '18) landed her dream job at a large corporate law firm – or so she thought. As time went on, she found herself taking on more legal aid cases than billable work, finding joy in being able to connect with her pro bono clients on a deeper level.
"I could relate to these people. I wanted to hear their story to understand where they were coming from because their story is so much my story," said Connally, who also earned her bachelor's in philosophy from the College of Arts and Sciences. "They find comfort in me being able to advocate for them not only as a lawyer but from a position of empathy."
Growing up in eastern Kentucky, Connally understands what it's like to endure hardship. After personally dealing with experiences that showed her what it meant to not have anyone listen, she made it her mission to be the voice for the voiceless.
Now, as the owner of Connally Law Offices, she is committed to defending people who can't otherwise protect themselves.
With too many people being silenced by the justice system, she provides underrepresented communities with a powerful legal voice to show they are more than a case number. Guided by her pillars of being honest, fair and modern, Connally is a firm believer that legal counsel should represent you and your values.
"I'm here not only to tell you what the law is but to listen to you and to understand where you're coming from," said Connally. "What people need right now, and what 2020 has really showed us, is that we have to rely on each other and depend on our humanity together."
Recently named to Louisville Business First's Forty Under 40 list, Connally's goal is to make the law more accessible. She strives to not only educate her clients about the legal system but empower them so they can fight together as a unified team.
"When you're personally connected, or feel connected, to your clients and your cases, it helps you understand what you have to lose and what you have to gain," she said. "It makes every day worth the fight."
A few years ago, Connally would have been willing to move out of Kentucky to open her practice elsewhere. Motivated by the sense of unity in Louisville, she now never sees herself leaving the city – something she has UofL to thank for.
"My connection to UofL is strong, and it made me who I am as an adult, as a professional, and as a lawyer," she said. "I give UofL credit for allowing me to create a resource in this community, because it wouldn't be here if not for my time there."
And for many people in the community, Connally Law Offices has proved to be a valuable resource in Louisville. As she continues to help people, the most rewarding part of her career is showing her three young daughters they have an obligation to look after the community that takes care of them.
So, what do her children say about her now?
Mommy helps people for a living.
And Connally wouldn't have it any other way.
Learn more about Connally Law Offices by visiting their website and following them on Instagram and Facebook.