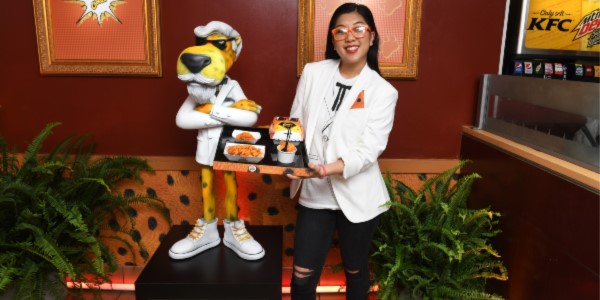 If you've been to KFC recently, you probably noticed a new addition to the menu: the chain's first-ever signature drink, MTN DEW Sweet Lightning. 
The brains behind the beverage? UofL alumna, Kara DeLost '11.
After graduating from the College of Business with a degree in marketing, DeLost accepted her first job as a marketing coordinator for a digital advertising agency where she developed her passion for the industry.
"I fell in love with the advertising world," said DeLost, who worked with brands like Sun Tan City and AutoZone. "I love working with clients, working on different brands, and working on campaigns that were innovative."
But DeLost knew she needed a change after seven years between two agencies, citing a high burnout rate in an industry that "will chew you up and spit you out." After taking a step back and evaluating what she wanted to do, DeLost said goodbye to the agency world and hello to corporate America. In what she considered a leap of faith, DeLost joined KFC as the associate brand manager for beverage innovation.
Soon after arriving at the company, she was challenged with the task of launching KFC's first signature beverage. What might seem daunting to some was exciting to DeLost, who longed for "that feeling of working on something and the world sees it and knows it…to be a part of a brand that people know, love, and is part of pop culture."
Fast forward 18 months, and the Mtn Dew Sweet Lightning beverage is not only a permanent offering on the KFC menu, it is only available at the Louisville-based chain. DeLost, who has also worked on the brand's Cheetos Sandwich and Mac and Cheese Bowls, said the beverage is doing well, doubling expectations within its first year. 
"To go into a KFC and see it, and see people drinking it, it feels so good. It's a very proud moment to say I launched a national product," she said. 
As a member of Yum! Brands' Employee Resource Group, DeLost has also taken pride in leading conversations within a Fortune 500 company about the importance of diversity, inclusion and equity. She said the transition from an agency to a corporation was an adjustment, but credits KFC for their support of employees having a work-life balance.
"(Parent company) Yum! Brands and KFC have given me a home to be my authentic self and embrace it," said DeLost, whose typical workday includes working with cross-functional teams, evaluating consumer insight, developing products, and the best part – eating fried chicken. "I've been able to dive deep into the KFC brand and I love it. I'm so passionate about the work we're doing, and I'm excited to see how our brand grows moving forward."
Read more alumni news online here.