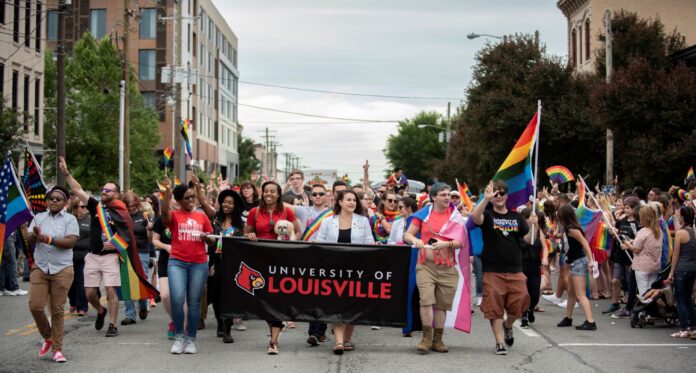 Campus Pride, considered the preeminent resource for LGBTQ+ leadership development, diversity inclusion and advocacy within higher education, announced its annual Best of the Best Colleges and Universities for LGBTQ+ students in the United States, naming the University of Louisville to this year's list.
Such campuses are recognized for creating a safe, welcoming environment for students, faculty and staff.
UofL is the only Kentucky college or university earning the designation and is one of just 5 in the Southeast Region and 40 nationwide to be recognized as a "Best of the Best." The designation is a repeat honor for UofL; the university has been named to the list several times since Campus Pride began compiling it in 2012.
The 40 campuses on the 2022 list have achieved 5 out of 5 stars on the  Campus Pride Index, the definitive national benchmarking tool measuring LGBTQ-friendly policies, programs and practices. To earn a ranking of 5 out of 5 stars, campuses receive a percentage score from 90 to 100 based on their LGBTQ-inclusive policies, programs and practices. The methodology to determine this year's list was based on an overall score of 93% or higher.
"Campus Pride created the Best of the Best List to recognize the outstanding accomplishments of these colleges and universities, creating safer, more welcoming campuses for LGBTQ+ people," said Campus Pride Executive Director Shane Windmeyer. "Students, prospective students and their families, along with faculty and staff members, deserve to know whether they will be safe on campus, so they can make the best choices for their own academic success – and by creating inclusive, safe environments these colleges are taking responsibility for all students."
"On behalf of everyone at the UofL LGBT Center, we are thrilled to receive this prestigious recognition from Campus Pride," said Lisa Gunterman, director of the LGBT Center at UofL. "It's important to honor that this work is collective and not the result of the LGBT Center alone. UofL's achievements are made possible with support from dedicated students, staff, faculty, administrators, donors, alumni and community members, who are passionate about building a more LGBTQ+ inclusive and welcoming campus community."
"Even though I'm relatively new to UofL, I am well aware that the university has taken a leading position in fostering equity and creating a welcoming environment for LGBTQ+ students, faculty and staff," said Vice President for Diversity, Equity and Inclusion Lee Gill, who joined UofL in May. "UofL's reputation as a 'best of the best' university is well known throughout the nation, and I am pleased to now be part the work to maintain this designation."
Among the university's initiatives during the past two decades:
The first university in Kentucky to open and maintain an LGBT Center, beginning in 2007
The creation of Cardinal OUTlook Day, the first—and only—campus preview day in the nation for LGBTQ+ high school students and their friends
The development of the eQuality initiative: UofL developed and was the first medical school in the nation to infuse American Academy of Medical Colleges (AAMC) LGBTQ+ affirming competencies into its curriculum
The creation of the Bayard Rustin Themed Housing Community, the first of its kind in the south, open to all students interested in learning more about LGBTQ+ equality, social justice and volunteer service
The first school in Kentucky to offer health insurance benefits to LGBT couples, beginning in 2008
The first school in Kentucky to add gender identity to its non-discrimination policy, beginning in 2007
The first school in the country to endow a chair in LGBT studies, beginning in 2009 and currently held by Professor Kaila Story
The establishment of gender-neutral restrooms on both the Belknap and Health Sciences Center campuses, beginning in 2010
The list of 2022 Best of the Best LGBTQ-Friendly Colleges and Universities, listed by region, in alphabetical order by state, includes:
Mid-Atlantic Region: Towson University, Maryland; Montclair State University, New Jersey; Rutgers, New Jersey; Adelphi University, New York; Ithaca College, New York; Pace University, New York; Lehigh University, Pennsylvania; Pennsylvania State University; University of Pennsylvania
Midwest Region: Northern Illinois University; Southern Illinois University Carbondale; University of Illinois at Chicago; Indiana University; Purdue University, Indiana; Kansas State University; Oakland University, Michigan; University of Michigan-Ann Arbor; Macalester College, Minnesota; Minnesota State University-Mankato; University of Nebraska at Kearney; Kent State University, Ohio; The Ohio State University; University of Wisconsin Eau Claire; University of Wisconsin Green Bay; University of Wisconsin Milwaukee
New England Region: Tufts University, Massachusetts; University of Massachusetts; University of Vermont
Southeast Region: University of North Florida; University of Louisville, Kentucky; Elon University, North Carolina; George Mason University, Virginia; Virginia Wesleyan University
Southwest Region: Texas Tech University; University of Texas at Dallas
West Region: San Diego State University, California; University of Colorado at Boulder; University of Northern Colorado; Southern Oregon University; Washington State University
The Campus Pride Index full listing of LGBTQ-friendly colleges and universities is available online here.