UofL Athletics and adidas have announced a new agreement that extends their partnership through 2028 and positions the Cardinals in the top five nationally in footwear and apparel rights among all brands.
An important element of the agreement is the UofL adidas Internship Program, which provides scholarship assistance for more than 20 students who work with athletic department leaders. The program provides opportunities for practical learning experiences for students who want to develop knowledge, skills and abilities in athletic administration.
The announcement was made Aug. 24 and a news conference was held the following morning.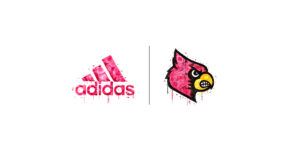 A partner with adidas since 1998, the new agreement replaces the final year of the current deal, which was to run through 2019. The Portland, Oregon-based company will supply footwear, apparel, accessories and marketing support for all 23 of the university's intercollegiate athletic programs. 
"When we began our relationship with adidas nearly 20 years ago, we weren't in the same shape we are now," said Tom Jurich, UofL Vice President and Director of Athletics. "adidas has stood arm and arm with us through adversity and success. The biggest winners in our cooperative partnership have clearly been our student-athletes, who are at the focus of all that we do. We are thrilled to be partnered with an enterprise who shares our passion for innovation, pioneering efforts, striving for excellence and simply doing things differently."
Below is a promotional video made to announce the extension.