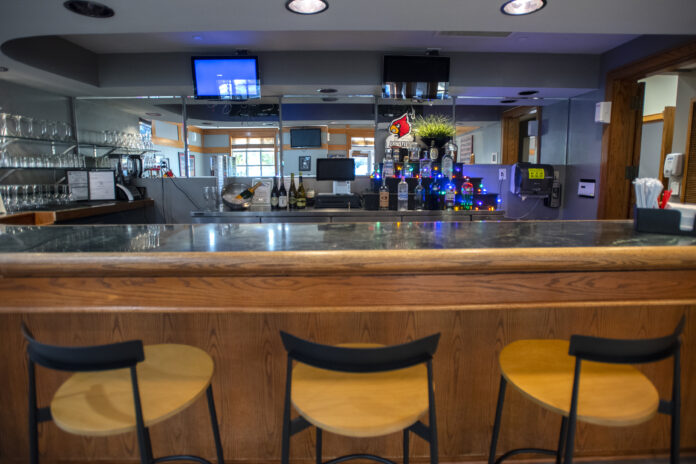 When the pandemic forced the University Club on Belknap Campus to close in March 2020, the effect was devastating. The club, which for three decades has been a popular event and dining venue for alumni, faculty, administrators, staff and retirees, had to lay off all employees but one. Its 750 members were offered the option to suspend their dues. 
The majority opted to continue to pay. Today, that loyalty has paid off.
The University Club reopened in September with a new catering partner, Aramark, which also provided $350,000 to replace worn carpet and furniture, redecorate and give the inside of the building a fresh coat of paint.
And while the pandemic's latest victim – the supply chain – has delayed some of the new décor, the University Club is already hosting catered events, serving lunch along with a new menu of pub dinners and is offering Thanksgiving take-out meals.
"Slowly but surely, we're getting all the pieces back in place," said University Club President Jeanine Triplett. "We were able to open again because everyone stayed with us."
The club is waiving initiation fees to encourage more to join. A partial membership costs $15 monthly and entitles the member to dine in for lunch or a dinner in the pub. Other levels allow members to host private events with no rental costs. All members can participate in members-only events, such as Trivia Night.
"This is the place where people connect," said longtime member Brian Buford, UofL's executive director for university culture and employee success. "When you're a young professional and you're trying to find your way and establish yourself in your career, making those personal connections is really important. And so for the small price of membership, a lot of really valuable things happen here, a lot of important meetings happen here, conversations. I can think of so many times over the years that big transitions in my life or big moments in my career really happened over conversations here at the club."
Matt Willinger, executive director of UofL Alumni, said the club is also great for recreation, especially for keeping tabs on the Cardinals when they're on the road.
"Whether you're coming down to campus to meet somebody for lunch or whether you're joining a group of friends or family for a game to watch here at night, they've got a little bit to offer for everybody, no matter what you're into," Willinger said. "It's just a great gathering place and the central location here in the middle of campus makes it really easy for everyone."
Another longtime member, former UofL basketball player Phillip Bond, called the club the "best kept secret in town," especially because of its variety of good food.
"I guarantee that you would enjoy it," he said.
More information about the U Club is available online.