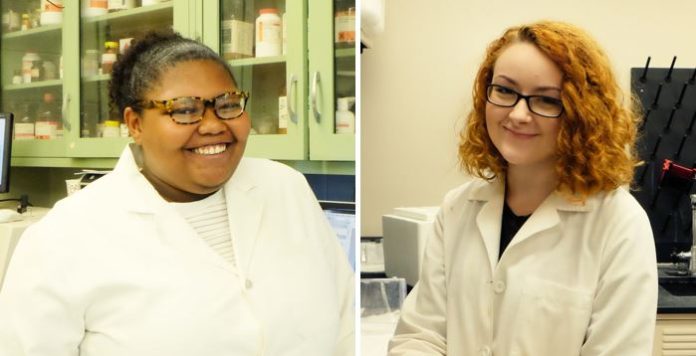 This summer, Kayla Massey is using an infrared spectrometer at the University of Louisville to determine how the structure of a lipid called meibum found in the eyelid affects tears in the eye. Massey, who will be a junior at Howard University this fall, is spending the summer in Louisville to gain experience working in a research lab that will help her when she applies to a post-graduate program.
"I've done research in biology before, but this is centered around the lipids in the eye so it is a lot more about organic chemistry. It is good for me because I had never done any chemistry research before," Massey said.
Massey is one of 10 students participating in the Summer Undergraduate Experiences in Biomedical Research program, directed by Irving Joshua, PhD, chair of the Department of Physiology at UofL. The program, which concluded this week, is supported by a grant from the National Institutes of Health and allows students who are economically disadvantaged, the first in their family to attend college, underrepresented minorities or from underserved areas to spend 10 weeks working in research labs with faculty mentors in areas such as diabetes, kidney disease and heart disease. 
"Our goal is to get more underrepresented minority and disadvantaged students involved in research, doctoral programs and medicine. This experience will give them exposure to clinical research that can help them in their careers," Joshua said.
The Association of American Medical Colleges and the National Academy of Medicine support the idea that a diverse workforce in health care and biomedical research will serve to reduce health disparities in the United States.
Massey, a biology major who hopes to attend medical school and become a surgeon, is being mentored at UofL by Douglas Borchman, PhD, professor in the Department of Ophthalmology & Visual Sciences. His research focuses on dry eye and cataracts related to diabetes.
"I am interested in diabetes and high blood pressure. Dr. Borchman is doing work with the effects that glucose has on lenses," Massey said. "I think it's opened my eyes to more about science and medical research in general."
Borchman hopes to encourage Massey and other students in the program to pursue graduate study or medicine by engaging them in the research experience.
"The program can lead to them going on to grad school, which is great," Borchman said. "I enjoy seeing the spark in the students, showing them that research is fun and not tedious. I give them responsibility and a long leash but don't let them stray too far. They are young and enthusiastic and it is fabulous."
One of Borchman's former summer undergraduate mentees, Samiyyah Sledge, is now a PhD student at UofL in physiology and biophysics with a concentration on the eye. Sledge said her experience as a summer undergraduate in 2014 piqued her interest in this area of research and introduced her to opportunities in graduate programs.
"This lab fostered and developed my love for the eye and for research in general," Sledge said. "The exposure and experiences I gained here influenced my decision to join the physiology PhD program. In addition, Dr. Borchman himself has been a great and supportive mentor to me."
Maura Fordham, another program participant this summer, will attend UofL this fall as a biology major, after transferring from Jefferson Community and Technical College. Fordham is working in the lab of Utpal Sen, PhD, associate professor in the Department of Physiology, whose research focuses on kidney disease.
"It's taught me technique and how you handle yourself in a lab," Fordham said. "I've gained an incredible amount of knowledge this summer from everyone in Dr. Sen's lab. I know this experience will help me as I continue as an undergrad and eventually as a medical student."
Sen said the summer students he mentors often are successful in applying to post-graduate programs.
"I want to get summer students in as undergraduates to get them interested in a research career that is both fun and challenging, yet rewarding," Sen said. "Some go on to do a master's or PhD program, and many of them are getting into medical school. It is a good basic research experience for them. They get used to the faculty and the programs our university offers and it helps them get into those programs. When these students are successful in their future careers, everyone benefits – the department, the university, the candidate and the mentor. We need more of these young minds to get involved in active biomedical research to advance the field for human well-being."
The program at UofL has been supported by a grant from the National Heart Blood and Lung Institute, part of the National Institutes of Health, since 2006 and is open to students attending colleges in and outside of Kentucky. Student selection is based on their grades, an essay describing their interest in scientific and biomedical research, and how well their areas of interest mesh with available mentors at UofL.
To conclude the program, the students gave a short presentation of their research and presented posters along with other summer research program participants.