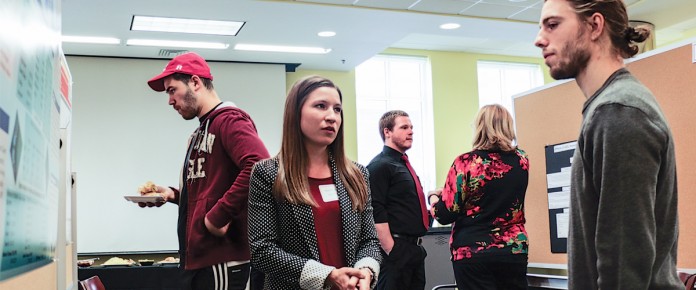 Elizabeth Kloenne, a senior nursing major at the University of Louisville, was excited to explain her project to a group of UofL students, faculty, and staff at the Undergraduate Research Symposium held earlier this week.
Kloenne has been working with her mentor Dr. Marianne Hutti on research involving the perinatal grief scale, which measures the level of grief in mothers who experience miscarriages, stillbirths, or neonatal death, and its potential use in clinical practices.
"I've never done anything like this as an undergrad and it's important to do research and give back in nursing," said Kloenne. "This has made me more interested in research. I want to continue working on this project as an RN."
The Undergraduate Research and Community Engagement Symposium is an event that gives UofL students a chance to share unique research projects with the university community. This event is an opportunity for students, faculty and the community to discuss projects from all disciplines and learn from each other about a broad range of topics. The projects vary each year. This year students presented from the College of Education and Human Development, the School of Nursing, as well as various STEM fields.
"It's a major part of the culminating undergraduate experience," said Dr. Pamela Feldhoff, associate vice president of research at UofL.  "The symposium allows the students to take their base knowledge and apply it."
Nicholas Grosser, a sophomore biology major from Northern Kentucky, is doing research on the expression of degradation in enzymes from a fungus in moss.
"I'm working with genetics now in school and the research we're doing is all genetics based," said Grosser. "Doing research in what you're interested in is so beneficial to getting an idea about what career you want to go into."
More information about the Undergraduate Research and Community Engagement Symposium is available online.