They won't have to choose anymore.
Students who use services and who lead and gather at five UofL offices will have one spot to meet and collaborate next year when the new Cultural and Equity Center opens at the base of a residence hall under construction.
Accessible from the outside of the hall, the ground-floor Cultural and Equity Center will combine the offices that will relocate from their most recent homes in Strickler Hall.
The new center will house the Cultural Center, Diversity Education and Inclusive Excellence, LGBT Center, Women's Center and the Muhammad Ali Institute for Peace and Justice.
"Having all of these centers together in one space allows us to take a more intersectional approach to serving our most marginalized students, staff and faculty," said Marian Vasser, executive director, diversity and equity. "Our students don't come to us with single stories, and college campuses often require students to travel to multiple offices/spaces in order to seek support and resources for each of their identities. Our goal is to work more collaboratively across identities, but also maintain spaces and programs designed to specific identities."
"Most importantly, this new space signifies a new beginning as we strive to become a premier anti-racist institution," Vasser added. 
The space, designed with students in mind, will feature a student lounge with work area and activity space, conference rooms, multipurpose rooms, training room, resource library, kitchen space, gender-neutral restroom and lactation room. The center adjoins a five-story residence hall that's one of two yet-unnamed modern dormitories replacing Threlkeld and Miller halls; construction on the second hall is expected to begin in January.
"We are engaging in a holistic approach" through the new center, said Faye Jones, senior associate vice president for diversity and equity, at the Nov. 17 topping-off ceremony for the building.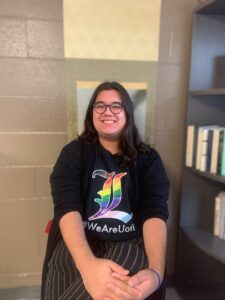 This is good news for students such as Elizabethtown junior Luke Moore, who is president of the Shades registered student organization for LGBTQ students of color. The English major's work with that organization is coordinated out of the LGBT Center but Moore also attends activities at the Cultural Center. "I always felt I had to choose," Moore said.
But the new center could enable students with intersecting identities to work together more easily and find acceptance. "All of your identities can be celebrated and welcomed in one space," Moore said.
Moving the Cultural Center's operations to the new space means that its student success initiatives also will have a new home. Those include the African American Male Initiative, Hispanic and Latino Initiative, Porter Scholars, Casa Abierta-Latino Students Welcome, Early Arrival Program and the Louis Stokes Alliance for Minority Participation.
Several student organizations will also have a presence there: Black Student Union, Black Diamond Choir, NAACP's UofL chapter, Latin American and Hispanic Student Organization, Brothers United and the Society of Porter Scholars.
As a former Porter Scholars officer, most recently as vice president, Jalena Slaton spent a lot of time in the Cultural Center.
"As a minority student on campus, I wanted to meet students I could relate to, who look like me," Slaton said, adding that the same is true for other marginalized groups.
"They wanted to go to their safe space, and we wanted to go to our safe space," she said.
The aging, free-standing Cultural Center was removed in making room for the new building. Slaton said people who used the center "definitely deserve a new space," but she and others active there were surprised by the announced plan to combine several offices into a spot attached to the residence hall and felt Cultural Center students' wishes weren't taken into consideration.
The Madisonville senior, who will graduate with her psychological and brain sciences degree before the Cultural and Equity Center opens, said she does think about the students who will use the space. Slaton acknowledged one plus of the Cultural and Equity Center will be the ease of working together for programming.
"I do feel like this is going to be a great thing for collaborating within events," Slaton said. "This will make it a lot easier if you can just go down the hall rather than send emails."
Moore concurs that it'll make planning more convenient. "Having our offices and meeting space together will be awesome."
The combination should make it easier for staff to serve students too. "Our offices were previously located on completely different ends of campus, causing our students to make multiple trips across campus. This new center will make a huge difference in terms of saving time and energy running from one side of campus to the other," Vasser said.
Moore also envisions the center as a space where people forge new friendships, learn to better understand others and broaden their experiences. "This'll be a good opportunity for people who want to know more," Moore said.
The center's proximity to residence halls could be an advantage for first-year students, said Moore, who also is a resident assistant and a student success ambassador. "Getting to interact with their identities is literally a step away."
Jones said the shared space should enhance the cultural and social development of UofL's campus and community.
"We are excited to mark this milestone in UofL history," she said at the virtual ceremony celebrating the laying of the building's top beam. "We know the space will support the social justice work and anti-racist work."