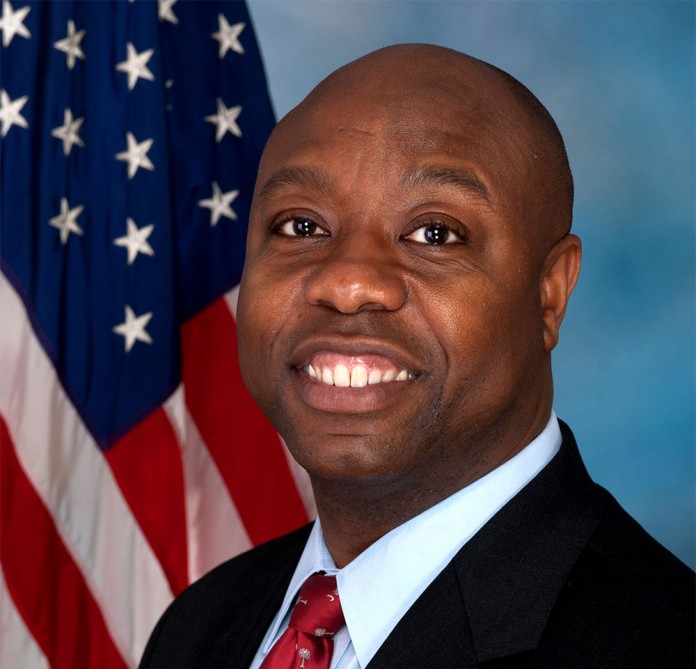 The McConnell Center's Distinguished Lecture Series continued Monday with U.S. Senator Tim Scott (R-SC) joining U.S. Senate Majority Leader Mitch McConnell for a wide ranging discussion about how leadership principles transformed Scott's life, ultimately culminating with his election as the first African-American senator from his home state of South Carolina.
"I learned from my mother, who worked 16 hours a day as a nurse's assistant, that leadership sometimes comes out of chaos," Scott said. "Some of the best opportunities that you'll ever see come out of greatest challenges of your life, so you have to embrace these challenges. Leadership is about influence. It is about taking a stand because it has to happen – that there is something in you that you believe that if you apply your best to a situation or problem, amazing things can happen. That's why my mom is my American hero – because she took a stand for me that no one else has ever done."
Scott also spoke about the recent terrorist attacks in Paris, acknowledging that America's greatest challenge in the 21st century will center on how to create an effective foreign policy that effectively addresses international terrorism.
"How do we deal with a radical group of people who believe that their anchor in their faith is a part of their violent activities?" Scott said, "Ultimately, we are tasked with finding the best approach where we're focusing on the actual greatest risk to western civilization as we know it today – and that's obviously ISIS from a military standpoint."
Scott, 50, appointed in 2013 to fill a vacant Senate seat in South Carolina and re-elected last year, is one of only two African Americans in the Senate. He is the first such senator elected from the U.S. South since 1881.
"Senator Scott inspired our audience to stand up for those who cannot stand up for themselves," said Gary Gregg, director of the McConnell Center. "It was a message that I know will move those who heard it to action and to helping make our communities better places for us all."
The non-partisan McConnell Center, created in 1991, prepares Kentucky's top college students to become leaders and offers civic education for teachers, students and the public. Its Distinguished Lecture Series has brought 47 high-profile leaders to UofL's campus.