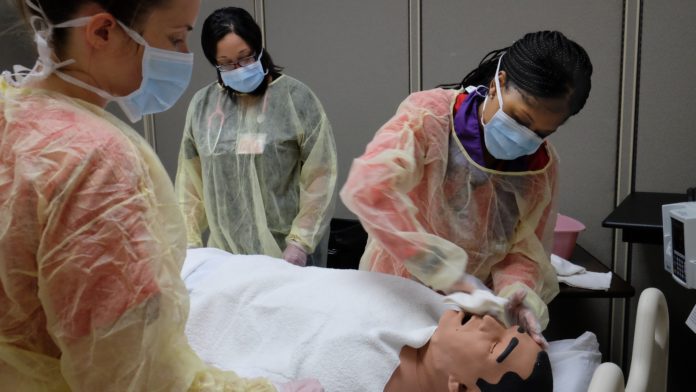 Two University of Louisville School of Nursing programs earned perfect 2017 pass rates for first-time takers of the National Council Licensure Examination for Registered Nurses, NCLEX-RN.
For the second consecutive year, the School of Nursing Owensboro Extension Program achieved a 100-percent pass rate. The program, in partnership with Owensboro Health, offers the only pre-licensure nursing bachelor's degree in the Owensboro area.
The first cohort of the UofL Master's Entry into Professional Nursing program also notched a 100-percent pass rate. The two-year program is geared toward people interested in transitioning to a career in nursing and already have a bachelor's degree in a different field of study. Graduates earn both master's and bachelor's degrees in nursing and are prepared as entry-level professional nurses.
The School of Nursing bachelor's degree program in Louisville achieved a 91-percent pass rate, above the national pass rate of 90 percent for baccalaureate programs, according to the National Council of State Boards of Nursing.
"We have strong programs with faculty and students who work together to uphold the highest ideals of nursing and produce top graduates," said Ruth Staten, PhD, APRN-CS-NP, School of Nursing associate dean for academic programs and associate professor. "The NCLEX pass rates help demonstrate the excellence of our programs."
State boards of nursing administer the standardized exam to determine whether a pre-licensure nursing school graduate is prepared for entry-level practice as a registered nurse. The pass rates include graduates who took the NCLEX for the first time in 2017.
"The faculty at the School of Nursing remain highly committed to excellence in education to shape the next generation of nurses as sophisticated problem solvers, leaders in the profession, and talented and caring providers," said Marcia J. Hern, EdD, CNS, RN, School of Nursing dean and professor.