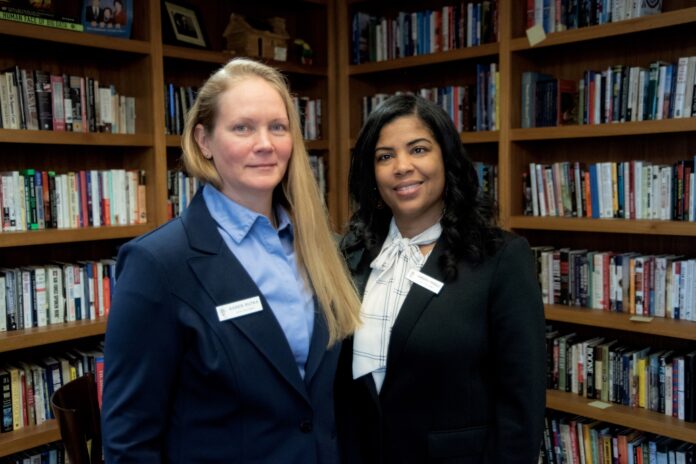 Two colonels in the U.S. Army are the first women to participate in the Army War College Fellows program at the University of Louisville. 
Col. Kimberly D. Pringle and Col. Karen L. Rutka are in their second semester in the 2022-2023 
educational/strategic leadership program
 hosted at UofL by the McConnell Center. This also marks the first time UofL has had two fellows at the same time.
This is the ninth year that UofL has participated in the program, which is based at the Army War College in Carlisle, Pennsylvania, and helps Army leaders sharpen their skills and broaden their outlook as strategic thinkers. There are fellows in U.S. universities, government departments, government-funded agencies, think tanks and industries. 
Pringle, 43, originally from Orangeburg, South Carolina, is an Army Human Resources Officer. Prior to this fellowship, she was assigned as the Adjutant General Corps Branch Chief in the Officer Personnel Management Directorate at Fort Knox, headquarters of the Army's Human Resources Command.
She earned her bachelor's degree in English at South Carolina State University and has two master's degrees: one from Murray State University, Murray, Kentucky, (Human Development and Leadership) and one from Webster University, St. Louis, Missouri, (Human Resource Management). 
In addition to auditing classes, the fellows serve as "Army ambassadors" who tell others about the U.S. Army and their journey. "I enjoy telling my Army story," said Pringle, who has served three combat tours in Iraq and one in Afghanistan in addition to holding several human resources leadership posts.
Rutka, originally from Fairbanks, Alaska, earned an undergraduate degree in criminal justice from the University of Alaska, Fairbanks, where she received her commission as an Air Defense Officer. She has a master's degree in business management from Webster University. Prior to her arrival at UofL, she was Director of Operations at U.S. Army Recruiting Command at Fort Knox. 
She is auditing UofL classes in marketing, social media, sports marketing and sports contract law in the College of Arts & Sciences (A&S) and the College of Education and Human Development (CEHD).
 "UofL has a great business school and sports management program that is allowing me to dive into areas that will be prominent in my next job," Rutka said.
Pringle is auditing classes on organizational behavior and data analytics research in CEHD and has worked closely with CEHD interim Dean Amy Lingo. She has also worked with Sharon Kerrick, UofL's assistant vice president for digital transformation, who is UofL moderator for the Army People Seminar, a professional development opportunity for senior Army human resources professionals.
"This experience has been phenomenal," Pringle said. "I cannot thank Dr. Margaret Pentecost in CEHD enough for her mentorship and guidance. … In addition, we have the support of Dr. Gary Gregg and the team in the McConnell Center, who are always there to listen, provide guidance, coaching and scholarly advice."
Both fellows said they are enjoying interacting with students and the experience has taught them some unexpected things.
"Overall, the students, specifically 
the McConnell Scholars
 with whom I interact regularly, have all been great," said Pringle, a UofL football fan who attended several home games who likes to spend time in the Swain Student Activities Center. "They ask questions to gain insight and dispel myths they have about the military, and I'm happy to say that I have learned a lot from them too. I now understand my teenage daughters better." 
 "The students in my classes and the McConnell scholars have made this an incredibly enjoyable experience," Rutka said.
Rutka is married with one teenage son, John, and two rescue dogs, Kassie and Scout. She lives in Brandenburg. 
Pringle is married to U.S. Army Col. Bryce Pringle and they have two teenage daughters, Destini and Victoria.