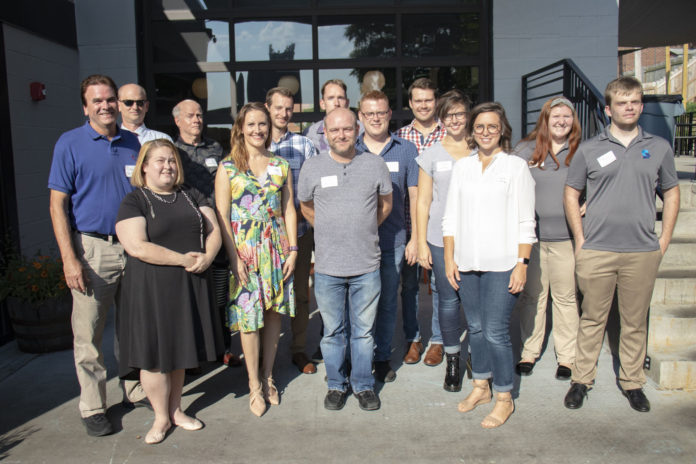 Two startups founded by University of Louisville students and faculty are among the 2018 Vogt Award winners, each of whom will receive training, mentoring and $25,000 in funding.
The companies represent one-third of this year's Vogt class. They are:
True Secure SCADA, which produces SCADA-Guard, a cybersecurity tool for utility and manufacturing companies. The co-founders are Drs. Jim Graham, Jeff Hieb, and John Naber from the J.B. Speed School of Engineering. 
Pascal Tags, which has a battery-free, smart tag technology that can help track inventory. The co-founders are engineering student Brandon Young and Haley Pfeiffer, who recently graduated with a degree in marketing and minor in entrepreneurship. Young invented the technology with Dr. Thad Druffel, who also served as a technical adviser. 
The UofL innovators worked with the UofL Office of Technology Transfer to protect and commercialize their intellectual property. Both also participated in UofL's LaunchIt entrepreneurship training and the NSF Innovation Corps site program for translational research. 
Pfeiffer said the Pascal team also got business advice from Dr. Robert Garrett, of the College of Business, and Adam Casson, of Inscope Medical Solutions (another UofL startup and previous Vogt winner).
"This award is an amazing opportunity for us," she said. "We have been working tirelessly on testing and customer discovery. The funding and mentorship from the Vogt Awards will allow us to launch our company and change the way that companies manage their inventory."
The Vogt Awards are awarded annually through the Vogt Invention & Innovation Fund at the Community Foundation of Louisville. Winners are given $25,000 in non-dilutive funding, along with a suite of services and mentoring, according to a release. 
EnterpriseCorp, the entrepreneurship arm of the city's chamber of commerce, plans to conduct the mentoring in the fall. According to the release, the startups will have access to a range of mentors and experts, who will provide more than 300 hours of unpaid consultation time.
Each team will show off their progress at Vogt Awards Demo Day, held during Global Entrepreneurship Week in November.