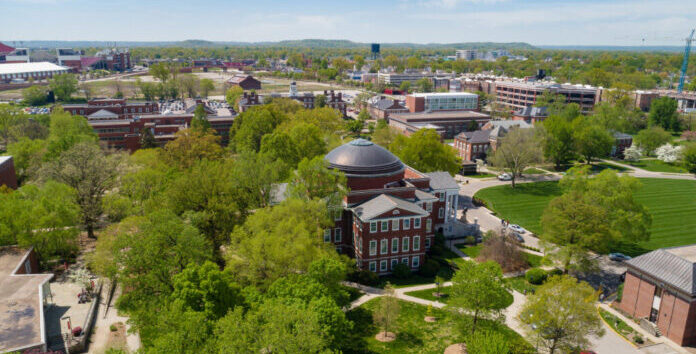 It was a full and productive agenda for the June 22, 2023, meeting of the University of Louisville Board of Trustees committees.
2023-24 budget approved
Among the items discussed and approved, first by the committees then by the full board, was the fiscal year 2023-24 budget. Tied to UofL's strategic plan, the FY 2023-24 budget is $1.65 billion — the largest operating budget in the university's history. It includes several key initiatives that support students, faculty and staff while ensuring the university's financial stability, protecting its assets and preparing for future growth.
Some of the budget highlights include a 2-percent cost of living (COLA) increase for eligible regular full-time and part-time faculty and staff who were hired on or before Jan. 3, 2023, with a 0.4 FTE or greater, almost $77 million in state support for asset preservation and an increase in the graduate stipend pool by $600,000 to help attract and retain outstanding students.
Read a summary of highlights in UofL News.
More information on the 2023-24 budget is available on the Office of Finance website.
New certificates
The board approved the creation of three new certificates.
The Graduate Certificate in Healthcare Systems Engineering will provide a focused study of industrial engineering skills and methods applied to health care delivery systems and processes.
The Graduate Certificate in the Business of Healthcare will train professional care providers to take on management roles in health systems or practices.
The Undergraduate Certificate in Construction Operations will help expand students' professional engineering career paths and provide greater opportunities for leadership roles in construction companies. Currently, none of the Kentucky universities provide such a construction-related certificate program for students in engineering.
Capital improvements
The board approved the 2024-30 capital plan submitted by the Finance Committee. UofL's six-year capital plan includes projects that address short-term critical needs such as upgrades to science, technology, engineering and mathematics (STEM) instructional buildings; account for new academic spaces such as a new Simulation Center and Collaboration Hub, STEM building, student commons and recreational fields; renovations to Arts & Sciences, Information Technology, College of Business, College of Education and School of Music buildings; and renovations to the Frazier Rehab Center and Medical Tower and Instructional Building.
Campus Master Plan
Now in its third phase of development, the University of Louisville Campus Master Plan outlines how the university will invest in its physical infrastructure over the next 10 years. On Aug. 28 (Belknap, 1-4 p.m.) and Aug. 29 (Health Sciences Center, 10 a.m. – 1 p.m.) University Planning, Design and Construction and its planning partner Sasaki will host open houses to solicit feedback on proposed ideas.
Learn more about the UofL Campus Master Plan here.
Provost report
In his report to the committees, interim Provost Gerry Bradley noted that UofL's current graduation rate is 62.2% with a goal to reach 70% by 2033. For annual year 2023, approximately 2,933 undergraduate degrees were awarded. By 2033, the goal is to increase the number of undergraduate degrees by 45%. To maximize performance funding allocations from the Council on Postsecondary Education state performance funding metrics, Bradley said strategies to meet those goals include:
Enrolling and retaining greater numbers of academically qualified degree-seeking students;
Encouraging students to take full course loads and providing support services to help them progress to timely completion;
Increasing graduation rates and producing more degrees, especially among underserved student populations or in areas of pressing state need; and
Beating the sector averages while gaining share.
Online strategy
Kelvin Thompson, vice provost for online strategy and teaching innovation, presented a state of online learning report to the committees. Thompson's report follows an intense assessment which included interviews with faculty, staff and students throughout the university over the past several months. UofL currently has 62 online learning programs. For the spring 2023 semester, 6,718 students took a combination of online and face-to-face courses, an increase of about 6% from the previous semester. Thompson said that several factors point to that increase including work schedules/priorities outside of the classroom and remote accessibility to UofL programs.
Thompson added that UofL's online programs will be aligned with the university's strategic plan by:
Growing the ecosystem of digital course selections for more flexible scheduling options;
Expanding access-oriented digital initiatives to recruit a wider variety of potential students; and
Focusing UofL course design/teaching efforts to ensure maximum positive impact on students.
The next meeting of the University of Louisville Board of Trustees is Thursday, July 13, at 1 p.m. in the Jefferson Room, Grawemeyer Hall, Belknap Campus. Meeting minutes and other information is available on the Board of Trustees website.