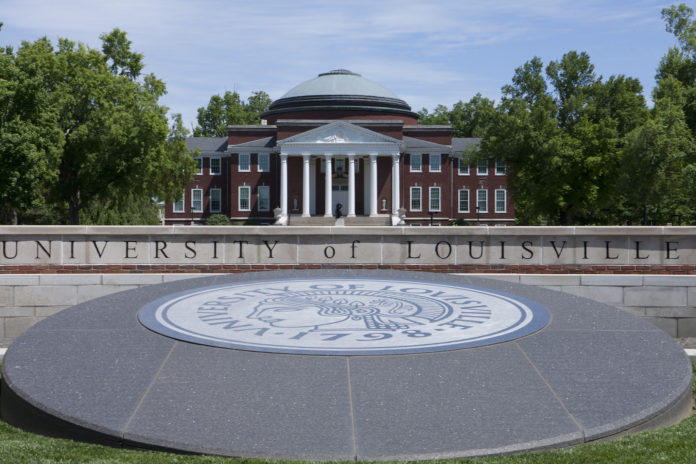 The UofL Board of Trustees appointed several key administrators and continued the appointments of two deans during its meeting April 18.
The board appointed Brad Shafer vice president for university advancement. Shafer, who holds a juris doctorate from Creighton University School of Law, has served as interim vice president since summer 2018.
The board also formalized the appointment of Rehan Khan as vice provost and chief information officer. Khan earned his MBA at Rivier University.
The board also approved the appointment of Teresa Reed as dean of the School of Music and the continuations of Toni Ganzel and Craig Blakely as deans of the schools of Medicine and of Public Health and Information Sciences, respectively.
Reed, who holds a PhD from Indiana University, previously served as associate dean of the Henry Kendall College of Arts and Sciences at the University of Tulsa.
Ganzel has served in several roles since arriving at the UofL Division of Otolaryngology in 1983. She has served as dean since 2013. Blakely served as dean, School of Rural Public Health, at the Texas A&M Health Science Center before taking the reins at UofL in 2013.
In other action, the board heard a presentation on UofL's finances, which included a recommendation that UofL increase tuition by 2.5% for the 2019-20 year. The board also heard a brief presentation on a new internship program that will provide opportunities for 40 UofL students to work with the executive branch of state government, with intent to grow the program to more than 200 in coming years. UofL already has a highly successful internship program with the General Assembly.
Also at the meeting, the board:
Approved creation of a certificate in distilled business spirits (see related story).
Approved creation of the Center for Archeology and Cultural Heritage (CACHe). Located in the new UofL Fine Arts Institute on Rowan Street, the CACHe will serve as home to archaeology labs and collections and participating Anthropology Department faculty.
Approved the naming of the softball field at Ulmer Stadium after Don Dobina. A former Cardinal football player and well-known supporter of UofL softball, Dobina was president and CEO of MPC Promotions. He also was founder and president of the nationally recognized Louisville Lady Sluggers Softball Club.
Approved renaming Cardinal Arena to L&N Federal Credit Union Arena. Cardinal Arena houses the offices, training and competition facilities for the Cardinals' volleyball team. L&N recently donated $2 million to the athletic department, in addition to previous donations of $160,000.