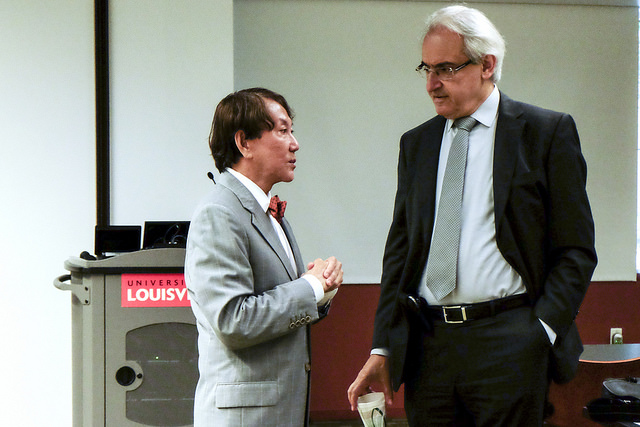 Identifying and treating tumors based on their molecular structure, known as precision medicine, is at the forefront of new methods of treating a type of brain tumor known as glioma.
Neuro-oncology experts from across North America provided an audience the latest developments on the best current practices and future treatment directions for patients with primary gliomas using surgery, radiation and chemotherapy at the second annual James Graham Brown Cancer Center Neuro-oncology Symposium at UofL earlier this month.
Eric Burton, MD, assistant professor in the UofL Department of Neurology and director of neuro-oncology at the James Graham Brown Cancer Center, organized the symposium, sponsored by UofL Department of Neurology and JGBCC, a part of KentuckyOne Health. Burton talked with Mark Hebert for UofL Today radio broadcast about brain tumors prior to the event.
Among the speakers was Raymond Sawaya, MD, chair and professor of the Department of Neurosurgery at the University of Texas MD Anderson Cancer Center, who explained that radical surgical procedures to remove as much of a glioblastoma as possible most often results in improved overall survival for the patient. He described how cortical mapping and advanced imaging can allow surgeons to remove more of the tumor while preserving functionality and reducing potential deficits in the patient.
Shiao Woo, MD, chair and professor in the UofL Department of Radiation Oncology, outlined the latest developments in radiation treatment for gliomas, including the use of molecular characteristics in guiding treatment choices.
Michael Prados, MD, the Charles B Wilson Chair in Neurosurgery and professor emeritus at the University of California San Francisco, shared his most recent research to establish protocols for treatment plans using precision medicine.
Kenneth Aldape, MD, senior scientist and director of MacFeeters-Hamilton Brain Tumor Centre at Toronto General Hospital, concluded the program with a discussion of the need to identify tumors as precisely as possible to achieve better outcomes for patients experiencing glioma. Aldape participated in the development of new tumor classifications by the World Health Organization released earlier this year. The classifications allow researchers to identify the tumors by not only histological, but also molecular composition, which will allow researchers to develop more precise therapies for treating specific tumors.
Photos from the symposium are available online.