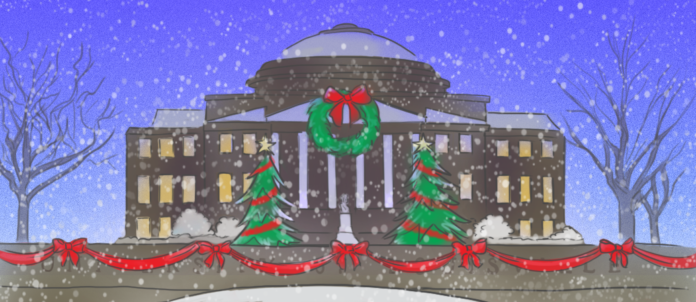 It's no small coincidence that Santa Claus prefers to wear Cardinal Red.
Each year during Santa's busy season, UofL employees and students step up their philanthropic efforts to help those in need throughout the community, essentially taking on the role of elves.
They host toy drives and winter coat drives, they feed the homeless and adopt families. And they do so with bells on because 'tis the season, after all.
To gauge how many campaigns are underway throughout the university seems a near-impossible task. The projects are facilitated by schools, centers, student groups and even individual classrooms. For example, Laura McKinney, from the School of Dentistry, estimates there are at least four different drives at that school alone, such as the Dental Hygiene Class of 2017's collection drive for children in need at CASA and the National Court Appointed Special Advocate Association. CASA supports and promotes court-appointed volunteer advocacy for abused or neglected children.
The biggest effort at that school is the Giving Tree, started by USLD staff member Gene Esterle nearly two decades ago. The Giving Tree, located in the school's lecture room hallway on the first floor, is where faculty, staff and students can donate items needed by local homeless children. Items collected go to Feed the City, which provides food and clothes for needy families in Louisville and Southern Indiana.
"I knew there was a need for people in need, including those who are children. So we got to talking to Larry Coleman (pastor and executive director) and he said if we could get some mittens or toboggans, he'd love to have them. So we did just that. We put up the first tree and the students decorated it with what they were giving – hats, scarves, mittens. We've been doing it since," Esterle said. "The students, faculty and staff and everyone here at dental school go out of their way to participate. It reminds us that it's not about getting, it's about giving. I don't think they'd be in this profession if they didn't have giving hearts."
Other examples of UofL's holiday benevolence include: 
UofL's Staff Senate, led by the efforts of the Staff Morale and Community Outreach Committee, volunteered for a Ronald McDonald House Adopt-A-Meal. The volunteers cooked and served dinner to the 36 families who are staying at the Ronald McDonald House while their kids receive treatment at Norton's Children's Hospital. The Ronald McDonald House is an approved UofL community service opportunity through the office of Community Engagement. Ellie Fridell, chair of the SMCO committee, said more than $275 worth of food was donated and more than 50 service hours were provided for the project.
Senator Ruby Keith said many of these children are being served by UofL physicians, which was a factor in choosing the Ronald McDonald House as a benefactor.
"If we can give these families just a little bit of comfort and compassion through these trying times, then we have done a good deed. It's not about the kudos or the recognition, this is about giving back to our community," added Senator Leslie Cooper.
The Brandeis School of Law is once again collecting toys for the Louisville Bar Association's toy drive with a focus on older children, who are not often selected for angel tree gifts. This is the 23rd year for the toy drive and the Brandeis School of Law has been involved for several years. Harlan Scholars help pick up the toys and the law school donates toys.
"At the Brandeis School of Law, being an engaged member of the community is central to our mission. Participating in the Louisville Bar Association's annual toy drive is a concrete way to show that we care about local families. We're proud to carry on Justice Louis Brandeis' legacy of public service," said Brandeis Dean Susan Duncan.
The UofL Women's Center Student Parent Association held its 2nd annual Angel Tree Program, where participants selected angels of UofL student-parents to purchase items for.
Throughout December and for the third year, the University of Louisville Physicians is sponsoring a Dare To Care Food Drive. Last year's effort raised more than three truckloads of food for local families.
The School of Public Health and Information collects items for Home of the Innocents, a nonprofit shelter and pediatric convalescent center. Faculty, staff and students get a name and shop for youths at the home, similar to the Angel Tree. Also, SPHIS' Kentucky Public Health Association plans to host a coat drive or food drive in January, as well as a community service event that month.
The Arts & Sciences Dean's Office is supporting giving day at Slaughter Elementary through donations. Giving Day offers every student at Slaughter the opportunity to go "shopping" in the "Giving Store" for special gifts for family members. After selecting the gifts, the students return to their classrooms for a wrapping party.
Slaughter has a high poverty rate and one of the highest percentages of ESL students in Jefferson County. Past donations have included jewelry, clothes, kitchen items, sports equipment, games, small electronics, books and more.
UofL's LGBT Center, Student Recreation Center, Women's Center, School of Dentistry, Olga S. Peers Student-Athlete Center and Cultural Center have been busy collecting items for local shelters for the Give Some PEACC Donation Drive, sponsored by the PEACC Center. Items collected included diapers, gift cards and hygiene products.
Earlier this month, the Latin American and Latino Studies Club donated three car loads of winter coats, hats, scarves, gloves, blankets, toys and other household items to the Kentucky Refugee Ministries as part of its Winter Drive. 
The UofL School of Nursing staff held a toy drive for Norton Children's Hospital earlier this month. According to Emily Nation, assistant to the dean, the staff discussed potential ways to give back to the community during a meeting held earlier in the semester. Several philanthropic options were brought to the table and faculty were invited to join in on the efforts.
"We decided on a holiday toy drive for Norton Children's Hospital because we hoped to spread some holiday cheer to children and their families who are going through a difficult time. This is our first holiday toy drive as a school, but we hope to continue the tradition of giving back in years to come," Nation said.
UofL's Cardiovascular Innovation Institute is collecting items for the homeless, specifically for Exit 0, which serves dinner and collects supplies for the homeless population.
The House Staff Council, an organization of medical residents, is conducting a toy drive for Toys for Tots. Donations are made by residents, staff, undergraduate students and faculty of the UofL School of Medicine. Last year they collected 570 toys and this year they collected 886 toys.
There is a group of women who crochet holiday garments for our preemie babies in UofL's NICU. Because the babies are so small, it's practically impossible for parents to find special clothes for them. At least one of the group's members and Santa Claus will visit the NICU on Dec. 19 to present the clothes and visit with the families. More information will be available after their visit.
These charitable initiatives make up a cross section of so many more efforts that have been facilitated by UofL's people. They also underscore the university's broader objective to focus on community engagement.
"It's no coincidence that during this season of giving, UofL faculty, staff and students are continuing engagement efforts and partnering with organizations in our community to help make the season a little bit brighter," said Dr. Ralph Fitzpatrick, AVP for Community Engagement. "The opportunity to engage our university community in outreach efforts such as food, coat and toy drives not only provides teachable moments but also reinforces our core values focused around empathy and compassion."