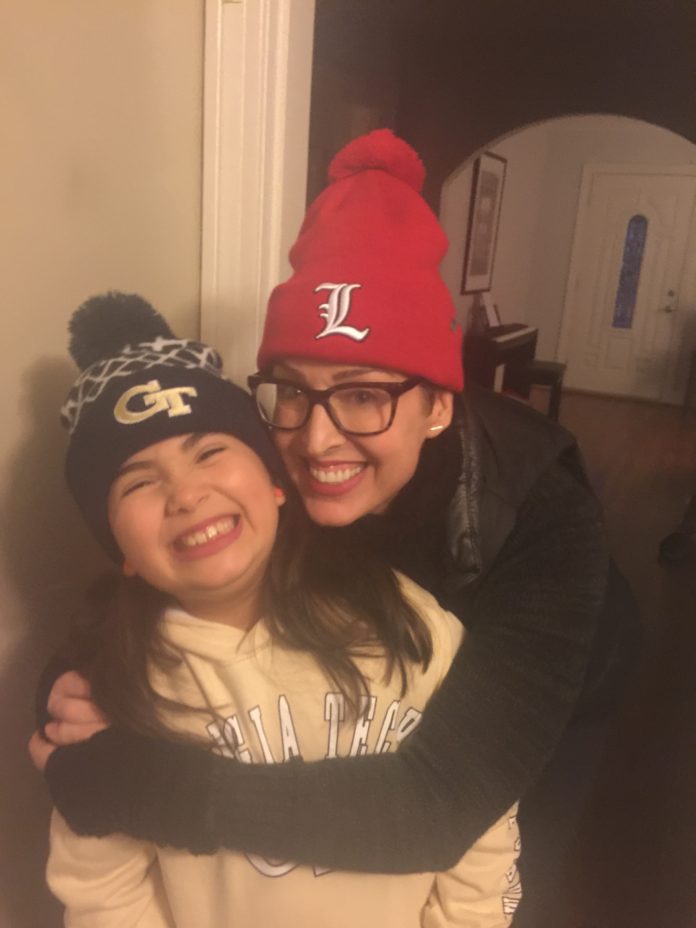 Rachel Torres admits that her route to getting her UofL master's degree in exercise physiology this year was long and circuitous. But the timing turned out to be just right.
True, she is a bit disappointed to not be able to wear her commencement regalia to participate this month in a downtown commencement – "I was looking forward to throwing my hat" – but she has learned to take the long view. She just applied for what she hopes will be the next stage of her studies, a neuroscience doctorate.
Earlier in life and education, she had considered becoming a teacher but abandoned that for another passion, cooking, which led to 10 years as owner of a wholesale bakery. She sold that when she had their daughter, while her military husband, Mauricio, was stationed in Afghanistan on one of his five tours.
In 2012, a month before Isvara turned 1, Torres encountered some unexpected health issues. "Out of nowhere, I felt like someone hit me on the head with a bat." she said. The diagnosis: bleeding in the brain (idiopathic bilateral subdural hematoma) with no apparent cause. Two surgeries later, she still couldn't talk for months and then wrestled with stuttering. "It took a good six months to recover," Torres said. "It was rough, really rough."
Fast-forward a bit to her next food-related job, this time working in the lunchroom of Isvara's school, Hawthorne Elementary. There she met another parent who was conducting a research study at the school about the relationship between learning and exercise. Intrigued, Torres volunteered to help.
The other mother, Daniela Terson de Paleville, was a faculty member in UofL's College of Education and Human Development. The UofL graduate students working with her were doing "the coolest stuff," as Torres put it. "I wanted 'to be like them when I grew up'." The encounter opened her eyes to the possibility of mapping out an unexpected educational path.
"I thought all exercise physiologists were coaches," Torres said. The mind-body connection and the idea of self-empowerment resonated with her, especially in light of her own health issues and what she had learned through a long-standing yoga practice.
Terson de Paleville encouraged her to return to school and ultimately became her UofL mentor too, according to Torres. "She's just been amazing," Torres said. "When somebody sees that in you, you want to show it back to them."
So, with that nudge and the help of veterans' benefits, she enrolled as a graduate student, embarking on a tough first semester with initial trepidation, test anxiety and concerns about how she'd measure up.
"Once I started, I realized my brain was fine. My cognitive ability was not affected at all," Torres said. Gratefully, she realized she would "need every brain cell available."
She powered through intimidating technology and tools that hadn't been a part of her early 1990s education. She carved out a regular study schedule that accommodated family life, arising at 3 a.m. daily to study before the rest of her household awoke.
Hers likely was a very different routine from those of the rest of her CEHD cohort, and she was a little concerned when she realized all of them were about half her age. But that worry evaporated.
"We all became really good friends. We were just people together going through the same thing," Torres said. "It was great. They treated me with respect, and I treated them with respect. We had a wonderful, diverse group."
The graduate hopes to continue researching ways people, even after injuries, can use aspects of their mind-body connections to improve and regulate their body functions and health conditions. "The autonomic nervous system is my jam," Torres said.
"They are tools that have helped me," she said. "It needs more good science behind it. I want to be a part of this."
So, at graduation, what's her advice for others who might be poised to shift their careers, further their education or just take whatever the next step might be? Torres herself needed to work it out by waiting until the time was right, when her daughter was a little older and her husband was stateside again. But the effort has been worth it.
"We don't have any time to waste, so go for it," Torres said.