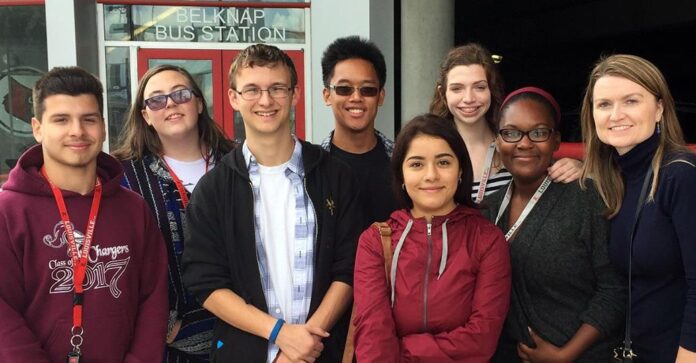 Jami McCoy Allen, a three-time UofL alumna and history teacher at Eastern High School, was recently named the 2020 Kentucky History Teacher of the Year by the Gilder Lehrman Institute of American History. The award, which aims to highlight the importance of a history education, is accompanied by Gilder Lehrman educational materials as well as an archive of American history books for Allen's Eastern High School.
While Allen's passion for history has not wavered since earning her BA in History from UofL in 2000 and MA in History in 2002, teaching was not always a part of the path she envisioned for herself.
"After earning a Master of Arts in History, I planned to pursue an occupation in museum work or another public history profession," Allen explained.
It was clear she enjoyed her time on the Belknap campus when she began her professional career right at home working at the University of Louisville's Ekstrom Library. Her time outside of the classroom, however, did not last long.
"I asked my mentor, Dr. Wayne Lee, who taught in the History Department at the time, if I could teach on a part-time basis in Fall 2002," she said. "He agreed. Once I started teaching for the university, I desired to pursue a teaching career."
In no time, Allen knew that her path would take a turn toward teaching. In fact, she'd return several years down the road to earn her MA in Teaching in 2009.
"[Teaching part-time at UofL is] what helped me to determine that I wanted to be a teacher and eventually go into high school teaching," Allen told the Kentucky Historical Society.
Her involvement with the history department came with expansive content knowledge, her time working in the library allowed her to learn about new and exciting topics from other departments and her time with the Education Department taught her how to communicate her knowledge.
"The faculty of the Education Department helped open my mind to the variety of ways that teachers must communicate content to students in order to reach kids from diverse backgrounds," Allen explained.
Equipped with deep knowledge of her area of study, Allen has found success in her career as a history teacher at Eastern High School, where she encourages her students to be inquisitive, active learners.
The three-time UofL Alumna has gone on to inspire countless students to pursue a higher education, many of whom have chosen UofL. With the help of then-History Department Chair Dr. Tracy K'Meyer, Allen facilitated a dual credit UofL course at her high school and often brings students to her alma mater for campus visits.  
"My former students who currently attend UofL voluntarily take time out of their busy schedules to give [my current students] insight into college life," Allen said. "The biggest compliment from my former students is their willingness to come back to my classes and talk to seniors about college life. I've always been grateful for my former students' kindness and their willingness to share their knowledge."
Allen, who credits some of her success as a teacher to her continued higher education, advises future educators to pursue a Master's Degree in their content, which provides a broader understanding of relevant methods.
Whether she's encouraging inquisitive minds or inspiring future educators, this UofL Alumna and local high school teacher is clearly making her mark on the community.