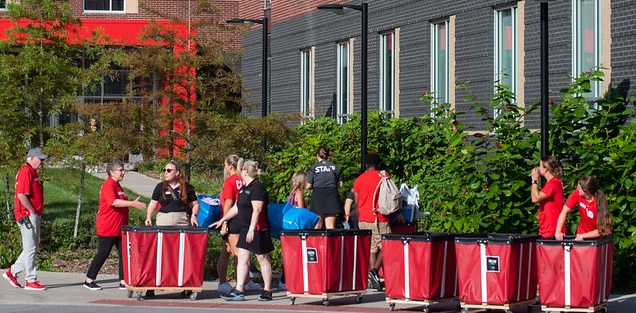 So much about the college experience is tradition.
Incoming students get their first taste of that as they push, pull, carry and drag their necessities to their new residence halls at the University of Louisville during the start of the fall semester. Family members beaming with pride and brimming with tears trail behind.
This year, University Housing and the Resident Experience is projecting almost 100% occupancy, with more than 3,900 University of Louisville students moving into campus housing to begin their college years.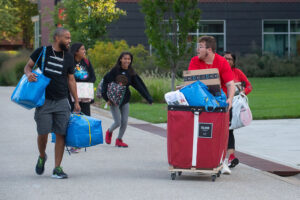 As has been the case in recent years due to COVID-19, move-in dates and times were staggered over a few days to alleviate crowding. 
UofL President Kim Schatzel and her husband, Trevor, were on hand Thursday to greet newly arriving students and families on Belknap Campus. They were stylishly attired in their bright red "Move-In 2023" t-shirts and posted a selfie on Instagram (@kimschatzel).
The Robinson family of Louisville were pleased with the ease of moving into Belknap Village South, saying the only holdup they experienced was as traditional as it gets — at the elevators. 
Tatyana Robinson, 17, who plans to major in criminal justice, said she chose UofL because of its diverse student population and it was close to home.
"I'm a big people person," she said. "I'm just glad to see people from all different experiences."
UofL has long been a part of dad Chris Robinson's life, he said, and he was happy his daughter would be continuing that tradition. 
For Tatyana's mother, Rana, UofL's proximity to home made all the difference. 
"If we want to see her, if I need a hug, I can come see her real quick and I can go back home and she can go back to her college life," she said.
Pre-business freshman Chris Mills said his move-in was "not as chaotic as I thought" and he liked the spacious residence hall rooms. He also said he likes UofL's campus "and how you can walk from one end to the other in about 10 minutes."
For more photos, visit UofL's Flickr page here and here. 
In addition to some of the newest residence halls on Belknap Campus (the two halls of Belknap Village — primarily for first-year students — and Denny Crum Hall), other residence halls bustling with activity during Move-in Week are Unitas Tower, also primarily for first-years; the suites in Community Park, Kurz Hall, Louisville Hall and Billy Minardi Hall, and apartments in Cardinal Towne, Bettie Johnson, University Pointe and University Tower.
Dozens of Welcome Week activities have been planned for incoming first-years, commuting students and transfer students.
Just some of the activities (most involving snacking opportunities) include a Cardinal Kickoff Picnic with Schatzel and other administrators; yard games and Bingo Like Never B-4; UofL night at Kentucky Kingdom; sunrise yoga; nachos at Ekstrom Library; a Louisville bike tour; a Sustainability Free Sale; puppies (!);  a "Taste of Louisville" lunch; a "Looking for Louie" scavenger hunt; an outdoor movie and a night pep rally at L&N Federal Credit Union Stadium. 
Classes begin Aug. 21.
Gabrielle Lawless and Tony Piedemonte contributed to this story.
Watch the video: