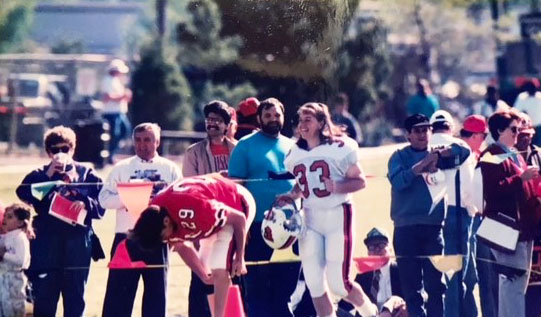 A crowd of 30,000 people roared as the Louisville Cardinals stormed into the old Cardinal Stadium to take on the Maryland Terrapins. It was the 1995 homecoming game, and it felt good to be back, but for number 33 it was a feeling like none other. As she ran into the stadium for the first time, Kathryn vanTonder (then Kathryn Klope) was exhilarated.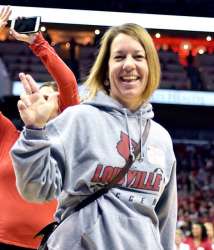 She was dressed for a Division 1 football game – and she was the first woman to do so.
Her love for the game started at an early age. The Alton, Illinois, native recalled playing football in the front yard with her 12-year-old brother and his friends when she was just 6 years old.
"If I was going to hang with these boys six years older, I had to show them up," vanTonder said during a recent interview. "It made me more competitive and I played sports my whole life."
Throughout the years she played soccer, swam competitively and even turned heads at her high school's powder puff football game when she made a 30-yard field goal. The players urged her to try out for the team, but she was reluctant – worried of what others might think of a girl on the high school's football team. She also had her sights set on a collegiate soccer scholarship.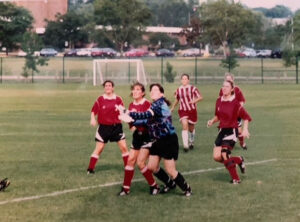 She went on to play four years as a goalkeeper for the UofL women's soccer team while studying engineering. During that time, she even spent a year on the women's swim team when the program was at risk of being dropped. In the months that the seasons overlapped, she'd go straight from the pool to the soccer field, all, she said, for the love of the sport. But the immutable sense of regret from high school never left the back of her mind.
vanTonder's collegiate soccer eligibility was over when she started working on her master's degree at the Speed School of Engineering. With a final year of collegiate eligibility, and the encouragement from the women in the athletic administration, the Cardinal goalkeeper asked then head football coach, Ron Cooper, for a tryout in the spring of 1995.  
"He was a little taken back, like 'Is she real? Is this just for attention?'" vanTonder said.
Still unsure of the eager prospective kicker, Cooper asked her to show him how she would approach a football if she were kicking a field goal – right there in his office. A few days later, vanTonder made 12 of 14 extra-point attempts in 30 mph winds to earn a spot on the roster.  
UofL football made national headlines because of vanTonder, who undoubtedly became a familiar face around Louisville.
"I would go to the gas station down by UofL and I remember the attendant saying 'Aren't you the kicker? Hey, go for it,'" vanTonder said.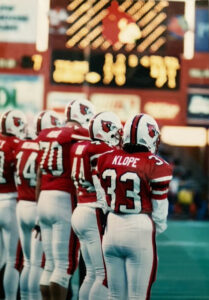 She was not dismissed, discouraged or disparaged. She was not told that she did not belong in that space. 
"I only received positive reinforcement from everyone that I met and ran into," vanTonder said. "[I received] so many letters from fans cheering me on. I really did have so much support from the community and even within the school."
That's not to say it was all smooth sailing. The equipment didn't fit well, so she made it work. There were no women's locker rooms at the stadium, so she changed in an equipment shed. She had to complete a summer co-op for engineering, so she attended voluntary workouts at 6 a.m.
"I think that showed [the team] that I was serious," vanTonder said.
They took her in and treated her as the teammate she was. They'd adjust her sleeves and shoulder pads to make her oversized uniform look tighter as they explained that she needed to show off "her guns."
"I have to give credit to the team," she said. "They treated me like I was their little sister. I just felt like they took me under their arm and under their wing and looked out for me."
Senior day came and the kicker had yet to see the playing time she, and a supportive fanbase, longed for. In the final quarter, the old Cardinal Stadium crowd chanted her name – a moment that still makes her tear up 25 years later.
"My teammate came over to me and said 'go stand by coach, I'm going to score a touchdown and I want you to score the extra point,'" vanTonder said.
Although that opportunity never came, the support of teammates meant the world to the kicker.
"I've always said it didn't end the way I wanted it to, but the experience was still probably the best experience of my life," she said, holding back tears.
Although she didn't see it this way at the time, vanTonder broke down barriers for women in sports. Simply following her passion led her to becoming the first woman to make and dress for a Division 1 football team. That feat allowed more women, like Vanderbilt's Sarah Fuller, the first woman to score in a Power 5 football game, to shatter ceilings of their own.
"[Initially] I just did it for the love of it," vanTonder said. "You realize that it's bigger and you can represent your gender at the time to give people more opportunities down the road. It's about representing the future."