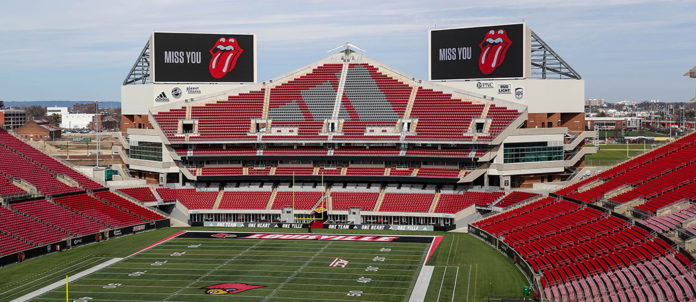 The rumor mill started churning Feb. 3 with a cryptic tweet from UofL Athletics showing the scoreboard at Cardinal Stadium with The Rolling Stones' signature "tongue and lip" logo.
Now we know why. The "world's greatest rock and roll band," as described by Rolling Stone magazine, will bring its "No Filter" tour to Cardinal Stadium June 14. The band's stop in Louisville is part of its 15-city North American tour and comes on the heels of record-breaking, sold-out performances in 2019.
The Rolling Stones originally formed in London in 1962 and include Mick Jagger, Keith Richards, Ronnie Wood and Charlie Watts. The band has released 30 studio albums, 23 live albums, 25 compilation albums and a whopping 120 singles. They have sold more than 240 million albums worldwide, making them the fourth bestselling group of all time. 
According to the Courier Journal, The Rolling Stones' first Louisville performance was at the Fair Grounds in 1989. The band played again at Churchill Downs in 2006. 
This also isn't UofL's first major concert. In the summer of 2018, Cardinal Stadium played host to Taylor Swift's Reputation Tour, and also hosted U2 in 2017 and Kenny Chesney in 2015. 
Michael Ortman, UofL stadiums manager, worked on both of them. Ahead of Swift's show, he said Louisville is an ideal location for artists because it's centralized and close to other mid-major cities such as Indianapolis: "I'm hoping we can continue to be on that radar," he said. "If we're on that radar, opportunities exist for us to be known as 'UofL gets it. Let's go there to play a show.'" 
And so, here comes The Rolling Stones. Tickets go on sale Friday, Feb. 14 at 10 a.m. on The Rolling Stones website.