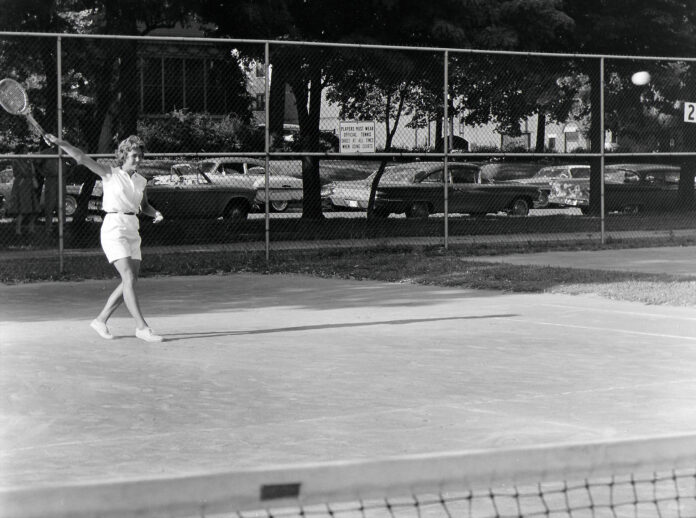 UofL is home to many female leaders, activists and trailblazers. Martha Graw, formerly Martha Aulbach, is one such pioneer. In 1960, she was one of three women to join the men's tennis team.
Graw was a talented player who won several awards, including the 1958 Women's Falls City Championship as a teenager. In 1960, Don Kaiser, UofL's men's tennis coach, needed more athletes to compete, so he invited Graw, a then-18-year-old freshman, to tryouts. Two other women, Liz Crady and Nancy Butler, also tried out for the team. All three made it.  
According to Graw's husband, Paul, also a former UofL athlete, Kaiser wanted to harness Graw's championship energy for the team. In fact, Kaiser offered her a partial athletic scholarship for joining the team, making Graw the first woman at UofL to receive such an honor.
"Coach Kaiser thinks so highly of (Graw's) potential that she was given a partial scholarship," wrote Marvin N. Gay, Jr. in a 1960 sports column in the Courier Journal. "Athletic director Peck Hickman said (Graw) is the first girl in the school's history to receive aid because of athletic ability."
At the time of Graw's scholarship, most financial aid was based on academics or need rather than athletic ability, said Nancy Worley, associate sports information director for the Cardinal tennis teams.
It would take many years before other women had the opportunity to follow in the shoes of Graw, Crady and Butler.
"Officially, we did not have women's athletics until 1975 when Title IX was interpreted to include sports for women," Worley said. "The NCAA did not offer women's sports until 1982."
Tennis led to love off the court for Graw, too. She met Paul, a former track athlete, in the summer of 1962. Paul loved Martha's exceptional talent for the sport and how happy tennis made her no matter where she was. The pair became engaged their senior year, in 1963. That year, both also lettered in varsity sports.
When Paul left for Texas to attend Officer Training School, Martha taught tennis in the Louisville Public Parks program. The couple married upon his return and Martha took a step away from tennis to have two children. After moving to Wright Patterson Air Force Base during Paul's service, Martha found there was an incredible tennis program, and she even got Paul to share in her passion. 
"Marty (Martha) and I played singles together a lot. It was an awful long time before I won a set from her, but eventually I could win a set every now and then," Paul said. "We liked to play mixed doubles. Over the years, that became really important. We, through her, got to be a part of the local tennis scene."
Graw was a natural athlete who took pride in her athletic victories and shared her love for the sport that helped pay her way through college with anyone who was willing to learn. She died in 2014 after a battle with cancer, but her legacy lives on in the hundreds of women who have taken the courts, fields, tracks and pools for UofL since Graw's first serve