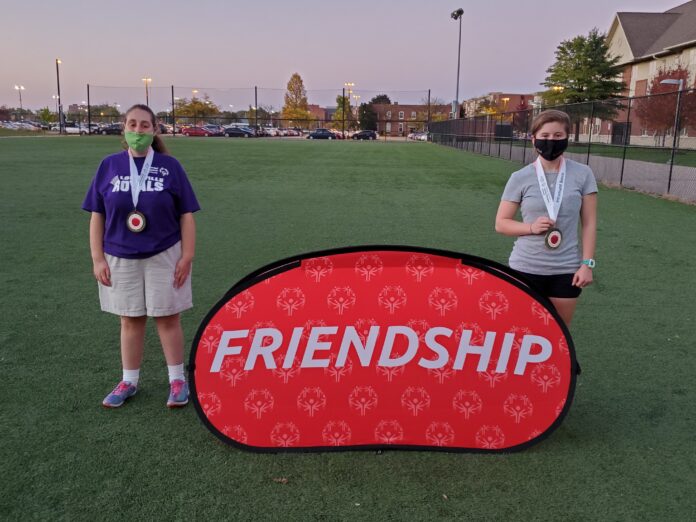 UofL's Intramural and Recreational Sports have shared a strong relationship with Special Olympics Kentucky for decades. In a partnership dating back to the '80s, UofL's involvement with SOKY has covered sports including basketball, track and field meet, and golf.
Now, bocce ball has been added to the mix. In 2020, UofL was the first college in the nation to host a Unified Bocce Ball Tournament with SOKY athletes and in partnership with SOKY. The tournament was comprised of four university students and four SOKY athletes who were split into unified pairs.
Bocce ball has become one of the most popular sports worldwide for Special Olympic athletes, partly due to its accessibility. Bocce ball is a universal game that is not complex for any newcomers to learn and allows players to focus on the company they keep and the atmosphere that's created. SOKY prides itself on athletes being able to play by the sports' rules and teach everyone there to participate.
"This was my first time playing any bocce," said Dallas Derringer, a SOKY athlete. "I safely met new people while playing during a pandemic. My partner's name was Sean and I got to see my friend, Pat."
Being the first college in the nation to host the Unified Bocce Ball Tournament shows the strength of UofL's relationship with Special Olympics and serves as a spark for other colleges to take UofL's lead with their respective Special Olympics state organizations.
UofL students who volunteered to be a part of the tournament believe the partnership with SOKY has impacted their lives.
"I have been fortunate to be a regular volunteer with SOKY for around four years now, so it has been very rewarding to see the Unified Sports program expand to UofL", said Corey Chitwood, a graduate student completing his MEng in Bioengineering at the university. "It is important for me to interact with individuals with different backgrounds than my own. It is also important to make sure everyone in our community feels included to participate, so it was awesome the UofL could partner with SOKY for a unified event that was accessible to those at all ability levels."
SOKY serves over 11,000 athletes who participate in the statewide program.
"Besides our sports initiatives, we offer services to our athletes in the realm of our Healthy Athletes Program. It is designed in improving overall health, wellness and fitness of our athletes," said Karen Michalak-Parsley, director of the Unified Champion Schools.
Intramural and Recreational Sports and SOKY's partnership is another way that the university achieves its goal of diversity and inclusion for the UofL community and the city. According to Michalak-Parsley, there is a desire to introduce more unified sports to the university and have more participation in the future.
"I had never had the chance to be involved in an event like this before, and I wanted to rise to the opportunity. To put things in perspective, it was most important to me that the Special Olympics athletes had fun and felt included," said Rebecca Shelby, a UofL student volunteer. "I am proud to have been a part of the University of Louisville making strides to be more diverse and inclusive. This event opened the door to have more events like this where students of the university can help create an accepting environment with unity among unique individuals."