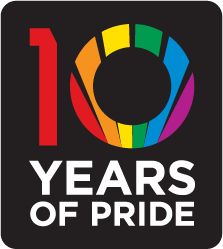 UofL's LGBT Center turned 10 years old this year. And for the next week, the center will be honoring its anniversary and commitment to students with Pride Week 2017.
Pride Week is a series of events hosted by the center, which aims to create a safe, inclusive community for everyone regardless of sexual orientation or gender identity and expression. Events continue through Nov. 7.
"As I look at the last 10 years, Pride Week is one of the highlights of the experience for me," said Brian Buford, assistant provost for diversity & LGBT Center executive director. "It's a time to celebrate with the entire campus community and to affirm our commitment to being an inclusive and welcoming place."
There will be two keynote speakers during Pride Week, Jonathan Higgins and Noell Rowan. Higgins, an editor for Campus Pride and Lambda Literary writing fellow, will speak on topics related to intersectionality, race, gender and sexuality. Rowan, professor and associate director of the school of social work at the University of North Carolina Wilmington, will speak on topics including the unique challenges for aging LGBT people and awareness of clinical and social needs of LGBT communities.
Higgins' talk begins at 7 p.m. Nov. 2 in Strickler Hall, Middleton Auditorium, Belknap Campus. Rowan's talk is from 12 to 1 p.m., Oct. 31 at the Health Science Center, Kornhauser Auditorium, 500 S. Preston Street.
In addition to the keynotes, Pride Week schedule highlights include:
Belknap Pride Kickoff & Resource Fair: Oct. 30, noon to 2 p.m., Red Barn & West Plaza. Resource fair, free food and flag raising ceremony.
Queering your Career: Career Exploration and Preparation for LGBTQ+ Students: Oct. 31, 12:30 p.m. to 1:30 p.m., Student Activities Center, Room 309K. Free lunch and panel discussion.
Health Sciences Center Pride Picnic & Resource Fair: Nov. 1, 11:30 a.m to 1 p.m., Health Sciences Center courtyard. Resource fair, free food and music.