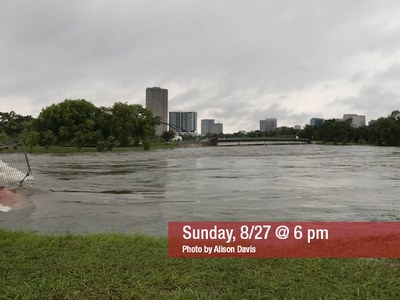 When Hurricane Harvey hit Texas last weekend, it brought torrential downpours of rain for five days, totaling 52 inches as of Tuesday evening. The flooding became so severe, many areas were evacuated and supplies became compromised. 
UofL's Speed School of Engineering works with a variety of businesses in the region, ranging from ORTEC, a consulting group, to NASA, and several of our students are currently on co-op, including Alison Davis and Jacob Cassady.
Riding the storm out
Davis, lived in Houston before moving to Louisville at a young age. She attended Manual High School prior to her tenure at the Speed School, where she is currently a junior in the Department of Industrial Engineering. Returning to Houston recently for another co-op round with ORTEC, Davis' experience has been comparatively manageable.
She said experiencing Hurricane Harvey was like living on an island.
"I could walk about a mile to the nearest flooded bayou (Brays Bayou), but I haven't driven my car since Friday," she said. "With the flash flooding, I didn't want to risk getting stuck. I'm now planning on volunteering to help with the recovery in Houston in the coming months."
Cassady is a senior Computer Engineering and Computer Science major and is working his second co-op with NASA at the Lyndon B. Johnson Space Center in Houston. He is part of the spacecraft software engineering division that is working on a project related to the testing of the Orion capsule.
Cassady and Davis both prepared for this scenario, stocking up on food and other supplies in advance of the storm. While Davis has remained outside of the path of the flooding, Cassady has been less fortunate, becoming trapped by rising water without an avenue of escape, at least by conventional methods, and making any re-supply trip unlikely in the short term. 
"We are completely flooded in, but luckily we have had power for at least a portion of every day and have power right now. We haven't seen any flooding in the house, but it has come close," Cassady said. "There was a mandatory evacuation yesterday, but we worried we would be worse off leaving. We are safe here. We have plenty of food, water, and optimism. Given our circumstances, I think we are in pretty good shape."
Working it out
For both Cassady and Davis, their respective co-op employers have been understanding of the difficulties brought on by the storm. Davis notes that ORTEC has been flexible, and she has had opportunities to work from home for the past few days.
"They are less concerned about the work and more concerned about our safety during the storm and the ongoing flooding," she said. 
Likewise, NASA is operating on a day-by-day basis, with both Monday and Tuesday off. Since, Cassady has also had the opportunity to work from home.
"There is no way we or many families around here could get to (work) … there has been flooding and damages in the Clear Lake area around and inside of the space center," he said, adding that people are predicting it will be "awhile" until things are back to normal at work, as many employees will need time to repair their homes.
Processing Hurricane Harvey
Davis has processed the crisis by remaining engaged with her work and her family in order to stay focused.
"Over the last few days I've heard from family, friends and people I haven't talked to in ages asking if I am safe. Even though I'm not at school currently I have the support of my Speed School family asking what they can do for me a thousand miles away," Davis said. 
She added that work and studying are very important to her. But when a storm like Harvey devastates so many so close by, the importance of family, friends and community becomes much clearer.
"I'm sure I will have quite a bit more to take away from this experience once I am able to start volunteering to help out the people who have really been affected," Davis said.
In Cassady's case, Hurricane Harvey has given him a new perspective on the destructive force of the environment.
"I never thought I'd see several feet of water cover an entire city or a palm tree bend to the will of the wind. It's important to be educated on what to do when visiting places that experience tropical storms," said Davis. "It has also helped me understand the power of good spirits in times of peril. Since the storm hit, there have been kids swimming in the streets and enjoying their days off. The laughter in the lulls of the storm have made all of the difference."