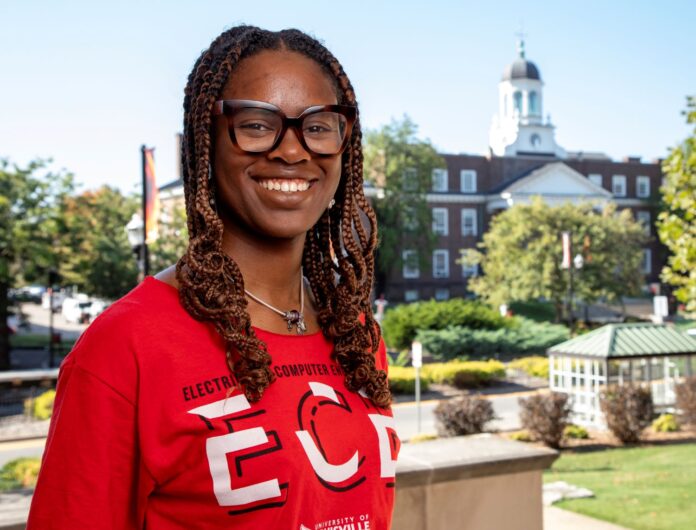 Senior electrical engineering student Meagan Turner hopped on a unique bus four years ago and had no idea how far that journey would take her.
As a first-year student at the University of Louisville's Speed School of Engineering, Turner was invited in 2019 to climb aboard StartupBus, a five-day tech boot camp and startup pitch competition that nurtures would-be entrepreneurs on a road trip/crash course. These "buspreneurs" pitch an idea, quickly moving to research, building, testing and ultimately selling the product or service.
That first trip as a StartupBus passenger traveling from Akron to New Orleans led Turner to be recruited as a lead conductor for the competition's Advancing Black Entrepreneurs (ABE) bus in July 2022. She functioned as a coach and leader for 30 aspiring Black entrepreneurs as they traveled from her Cincinnati hometown to Austin, Texas. Since that time, she spent a year living in Silicon Valley while doing three internships at tech companies, created her own startup company, RoadPitch. UofL News recently caught up with Turner to hear about her experiences.
UofL News: Your start-up company, RoadPitch, has been called "Amazing Race Meets Shark Tank." How would you describe the mission and vision of your company?
Turner: RoadPitch's mission is to mobilize Black tech founders across the country, facilitating access to capital for their companies. We're like the Amazing Race for entrepreneurs, with determined founders living out of their suitcases for a week to meet numerous investors, similar to Shark Tank. During our tours, we hold three pitch demos daily in each city, visiting five to six cities in a week. Our intense tours aim to maximize capital opportunities, connecting founders with angel investors, corporate venture arms and venture capitalists. 
UofL News: What are the most significant challenges faced by Black founders in seeking success in entrepreneurial enterprises?
Turner: In 2022, Crunchbase reported that startups with Black founders received only 1.9% of deals and 1.2% of total venture funding in the U.S. One major challenge for Black founders is the mismatch between the abundance of recommended programs and the scarcity of actual capital. Many founders are recommended to take part in various programs like accelerators and workshops, which consume time but often don't lead to meaningful connections or funding. This gap between programming and capital hinders their startup growth, even when they've proven their worth. 
UofL News: How has the University of Louisville and its resources and networks provided opportunities and support for your goals?
Turner: I'm immensely grateful for my undergraduate education in engineering at the University of Louisville. The mandatory internships through the Speed School were pivotal in shaping RoadPitch, as they allowed me to spend a year in San Francisco, where I attended approximately 100 startup and tech events, forging crucial connections in Silicon Valley in preparation for our west coast tour. Despite my physical absence from the state, the UofL law clinic proved invaluable in supplying resources for RoadPitch. Our soft launch during Startup Week Louisville in September 2022 marked a significant milestone, with support from Natalia Bishop, the director of innovation and entrepreneurship at the University of Louisville, who played a pivotal role in securing funding for our very first pitch competition.
 
UofL News: Which large tech companies did you engage with during the tour?
Turner: We had interactions with four founders who were working on AI and Web3 projects as well as connecting with companies that have procurement departments and venture arms focused on investing in innovative enterprise solutions. Our founders had the opportunity to pitch their ideas to AWS Startups, Accenture Ventures, Salesforce Ventures, and the Slack Fund. Our journey also included visits to key tech hubs, such as Amazon headquarters in Seattle, Accenture's office in Salesforce Tower in San Francisco and Microsoft's office in Los Angeles.
UofL News: How do you attract investors to attend your pitch demos?
Turner: We conduct extensive research on the local startup ecosystem, focusing on the relevant industry and stage of funding. We reach out to potential investors through LinkedIn and email, offering flexible pitch demo schedules. Our public evening events include mixers, fireside chats featuring local leaders and pitch competitions featuring our traveling founders alongside five local Black tech founders. This comprehensive approach is designed to foster connections between local founders and investors in their own cities, with a specific emphasis on aligning industry and funding stage preferences.
UofL News: What have been the most gratifying or rewarding experiences you've encountered since starting RoadPitch?
Turner: RoadPitch has brought about numerous positive outcomes. Our inaugural cohort of founders for the Northeast tour reported raising an impressive $166,000 post-tour, reflecting the tangible impact of our initiative. We've also built a strong sense of camaraderie among Black founders who spend a week together in a region where they initially lack connections, leading to ongoing support and promotion of each other's companies on social media and with investors they meet.
The travel and interaction with strangers' aspect of RoadPitch is a personal favorite, especially considering the cost-effectiveness and convenience of public transportation for a group of founders. In Las Vegas where we ended our West Coast tour, our team received Certificates of Special Congressional Recognition from Senator Jacky Rosen and Congressman Steven Horsford, highlighting the excitement and recognition our work in the tech and entrepreneurial space has garnered. When startup ecosystems amplify us in their communities and invite us to come back, that feels pretty special and signifies that we've added value to their ecosystem. 
UofL News: What are your anticipated plans post-graduation?
Turner: RoadPitch will have completed the Midwest and Down South tours prior to graduation. Post-graduation, I have engineering opportunities available, but my focus is not solely on building a traditional career. Instead, I'm naturally inclined towards exploring new endeavors and collaborating with creative minds. My priority is to build a life that brings freedom, joy and adventure. Stay tuned!
Click here to see a video of Meagan's RoadPitch tour.