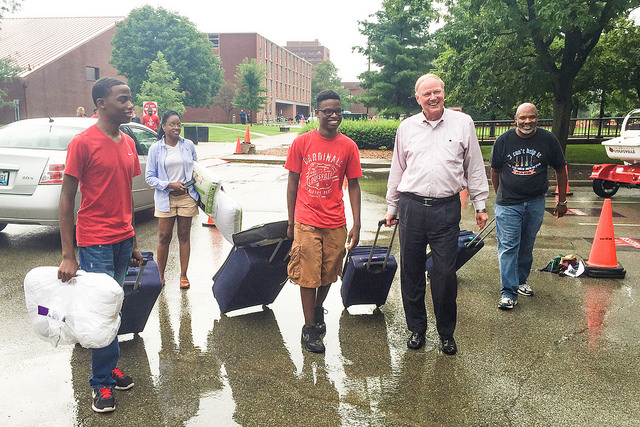 Seth Sereff, a freshman chemistry major from Elizabethtown, tried unsuccessfully to contain his excitement while moving into Miller Hall on Wednesday. He already has a job at the School of Medicine set up and plans on joining student organizations.
"It'll be a change, but a good one," he said while smiling at his mother. "I'm pretty excited to start my college career and meet my new roommate. I'm going to be just fine here."
His mother, however, was fighting back tears. Although Sereff is less than an hour from his hometown, his mother, Laniece, made sure to pack his favorite blanket, a keepsake from his childhood.
"I've done nothing but cry for two weeks," she said.
And so it was as members of the 2015 freshman class began unpacking in UofL residence halls for their first year of college. Some were excited and eager to get started, while others proceeded nervously. And as parents helped unload the mounds of clothes, electronics and bedding, they prepared to transition themselves from high school parent to a "Proud UofL Parent."
View more photos from move-in day
More than 70 percent of this year's freshman class will live on campus. The 2,825 incoming students have an average ACT score of 25.5 and 55 percent have already earned college credit.
"Our students are the heartbeat of the university, and this year's freshman class is, once again, the best prepared in our school's history," said Dean of Students Michael Mardis. "They are as excited to be here as we are to welcome them to the Cardinal family and all of the great things happening at the University of Louisville."
Mardis, President James Ramsey and Provost Neville Pinto were among the university leaders out and about on a rainy move-in day welcoming families and helping carry items. Welcome stations and students volunteers were placed around the residence halls so families could get help from a host of volunteers including student groups and UPS. Some students used the help to haul huge loads of belongings, while others, like Louisville native and Porter Scholar Dominique Blackburn, brought only what they absolutely needed.
For Blackburn, it was so far, so good – the first day on campus was leaving a positive impression.
"UofL is just an exciting and hospitable place to be. Even with all the rain this morning, people seem to be happy and ready to help," Blackburn said.