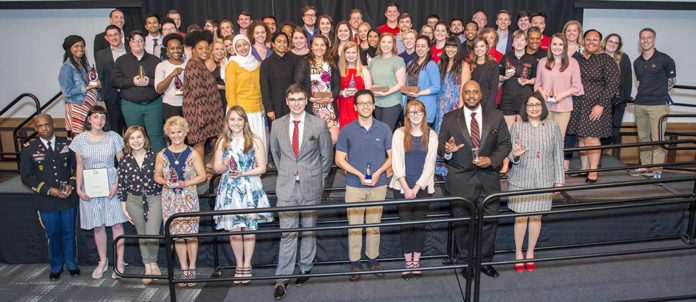 Students were honored for outstanding work in a ceremony April 10 in the Student Activities Center.
The UofL Student Awards, now in its 20th year, recognize students based on leadership, service and involvement. A committee selects recipients from student, faculty and staff nominations.
Dean of Students Michael Mardis, who assisted in presenting the awards, said it's exciting to see so many worthy students being recognized for their contributions to improving the university and wider community.
"The celebration highlights the diversity of the student body and the many ways they serve others," he said. "The dedication of our students and the impact they are making is impressive. It's an important learning outcome that we hope students will leave the university with – engaging in our community and using their talents to serve others. We are fortunate at UofL to have so many outstanding students in campus organizations."
Emcees were 2018 Homecoming Queen Madison Pumphrey, Homecoming King Jonathan Fuller, Ms. Cardinal Masden Griffiths and Mr. Cardinal Chris Tipton.
Click here for a picture gallery of the evening, which was sponsored by Commonwealth Credit Union. Award winners are listed below.
DRC Student of the Year Award
Allyson Fry
Intramural and Recreational Sports Solid Performance Award
Makayla Bilyeu
Dylan Gephart
Dakota Graue
Caitlin Holliday
Alex Lancaster
Souraya Lorenz
Zach Mofield
ACC Top Six for Service Awards
Kaela Dickerman
Bailey Florek
Victoria Gabor
Margaret Geraghty
Madison Luette
Linda Mutter
Adult Learner Awards
Brian "Buffalo Stille" Scott
Major Charles Bonner
Dr. Denise Cumberland
Chelsea Wicks
Outstanding Metropolitan College Student Award
Julianne Hummel
Profiles in Leadership
Bayley Amburgey
Joey Breckenridge, Jr.
Mariko Chou
Hayden Combs
Alex Elias
Nicole Fielder
Joseph Hock
Lauren Jones
Nada Kaissieh
Langston Love
Sean Madden
Brandon McClain
Caitlin McGuigan
Carolecia Mobley
Rebecca Myers
Madison Offenberger
Henrietta "Henny" Ransdell
Alyssa M. Ray
Cheyenne Richardson
Katja RieBenberger
Callie Rudd
Emma Sears
Jalena Slaton
Scotland Stewart
Pratistha Thapa
Selena Thé
Angel Thornsbury
Makayla Uebelhor
Jayla Verrett
Michelle Wahlgren
Katie Walker
Savannah Winston
Daphne Woolridge
A&S Peer Advisor of the Year
Emily Johnson
A&S Peer Advisor Rookie of the Year
Masden Griffiths
Most Outstanding Gen 101 Teaching Assistant
Shelby Carter
PEACC Keeper Award
Pi Kappa Phi Fraternity
Sigma Alpha Epsilon Fraternity
Phi Kappa Tau and Kappa Sigma Fraternities
Drake Coomer and Phi Delta Theta Fraternity
Alyssa Collina
Most Outstanding Orientation Peer Advisor
Daira Barnes
Katy Garrison LGBT Student Leadership Award
Dalton Maldonado
McClain Owens
Emma Radulski
Phoenix Washington
Campus Housing Desk Staff Member of the Year
Shyla Stump
Campus Housing Facilities Student Staff Member of the Year
Curtis McCoy
Campus Housing Resident Assistant Leader of the Year
Tariq Onodu
International Student and Scholar Center Award
Luis Cardona Olarte
CCU Outstanding Sophmore Student Award
Mina Ibrahim
Henrietta Ransdell
Jalena Slaton
Taris Smith
Nico Thom
CCU Outstanding Junior Student Award
Praneeth Goli
CCU Outstanding Senior Student Award
Noela M. Botaka
Nicole Fielder
Destinee Germany
Lazaro Munoz
Rebecca Myers
CCU Outstanding Student Awards for Graduate and Professional Students
Simra Ahmed
Kevin Jacob
Jakia Marie
Daniella Prince
Matthew Smith
Makayla Uebelhor
Spirit of Service (Individual)
Patrick Reeder
Spirit of Service (Group)
Alpha Kappa Alpha Sorority, Inc.
Social Justice and Inclusion Award (Individual)
Finn DePriest
Social Justice and Inclusion Award (Student Group or Organization)
Society of Porter Scholars
Collaboration Award for Student Groups with University Departments
Young Communication Professionals
Career Development Center
Collaboration Award for Two or More Student Groups
Lambda Alpha Epsilon
Alpha Phi Sigma
Outstanding Academic/Educational Program
"Graduate Student Regional Research Conference," Graduate Student Council
Outstanding Cultural Program
Miss Black UofL, sponsored by the National Society of Black Engineers
Outstanding New Program
The Cardinal Cupboard Food Pantry by the Engage Lead Serve Board
Outstanding Program of the Year
Dance Marathon sponsored by raiseRED
Outstanding Student Employee Award
Jade Montanez Chatman, Nursing
Anna Jones, Disability Recourse Center
Jacob Lamping, Office of Admissions
Callie Rudd, Student Involvement
Sara Tucker, Intramural Sports and Campus Housing
Advisor of the Year
Tony Simms, School of Medicine Class of 2021
Harold Adams Award
David Hatfield
Outstanding New Organization of the Year
United Nations Association of Women at University of Louisville
Student Organization of the Year Under 50 Members
CONECT the Caring Of New students Experiencing College Transition
Student Organization of the Year 50+ Members
She Became
Cardinal Award of Excellence
Nicole Fielder
Awards Judges
Ron Burse, Jami Campbell, Jessica Gernert, Melissa Hutchinson, Sarah Klump, Whitney Menser, Kathy Meyer, Denae Powell, Nicole Rosskopf, Stephanie Schoeder, Nakia Strickland, Dr. Angela Taylor and Brandy Warren