Ashley Ha and Luisa Wandrie, students in the American Sign Language Interpreting Studies program, initiated a way to bring greater awareness to the Missing and Murdered Indigenous Women (MMIW) movement through the lens of a group action project in their Multiculturalism and Interpreting course. MMIW is a movement that advocates for the end of violence against Native American women and seeks to draw attention to the high rates of disappearances of Native people, particularly women and girls.
UofL News talked with the two students to find out more about their advocacy on behalf of Native Americans. 
UofL News: How did you first become interested in this issue, and why did you feel it is important to help shed light on, and give voice to this marginalized community?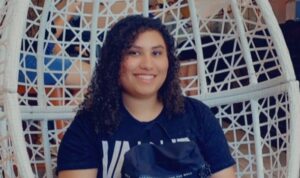 Wandrie: I've always been interested in this issue because I am of Native American descent, and my great-great grandmother was of the Choctaw tribe (also known as Chahta). Seeing and hearing about the continuous genocide that my people were facing really hurt me. Native American girls and women have higher murder and missing rates than other populations. In fact, currently there are more than 4,200 unsolved missing and murdered cases in the United States. As a school project, it was an opportunity to bring attention to a subject that has largely been hidden from the public. 
UofL News: Why do you think the issue of MMIW is still relatively unknown to many people?
Ha: One reason is because people tend to think that there are not that many Native American or Indigenous people here today, and the ones that are live on the reservations, which is not true. According to the Census Bureau, only about 25 percent of Native Americans live on the reservations. They are mostly living in plain sight just like anyone else.
UofL News: May 5 is the official National MMIW Day. Every year, individuals work to raise awareness and fight against the injustice. Tell us about your quest to make May 5 an official Louisville-wide awareness day.
Wandrie: We reached out to the Coalition to Stop Violence Against Native Women and from there, we connected with Venus Evans from the Kentucky Native American Heritage Commission, who was able to give us the knowledge, guidance, and tools to bring a city proclamation to life. We reached out to all 26 district councils and asked for Louisville Mayor Craig Greenberg to approve our proclamation proposal.
UofL News: How has UofL supported your academic path and advocacy efforts?
Wandrie: UofL has an amazing program for the American Sign Language (ASL) Interpreting majors including professors within the deaf community and those who were/are interpreters. The student organization that I joined and fell in love with was the Hispanic, Latinx, and Indigenous Initiatives group. They held many events celebrating and embracing the different cultures involved and bringing up the current issues that they face today and what we could do as students to help bring awareness.
UofL News: What would you like to see next in the evolution of this movement? How will you continue to advocate for MMIW and how can others help?
Ha: I hope to attend Native American and Indigenous events throughout Louisville and stay updated with news and traditions that may happen. I know one way to be involved with the community is by being there with the community. As an interpreter, there will be many deaf and hearing individuals coming from different religions, ethnicities, nationalities, etc., and it is important to be open-minded to differences.
Wandrie: I would like to see the MMIW movement not just all throughout Kentucky, but throughout the U.S. It is a serious issue that Native American tribes feel strongly about, and we need the cycle of genocide to end. I intend to continue to advocate by standing up for our brothers and sisters, whether via social media or by going to events and pow-wows to be part of the movement. Even though I am of Native descent, it's still a community that I am learning new things about every day that give me the drive to fight. We are young, but we know when something needs to be done. We want to stand up for what we believe is right, and let our voices be heard.