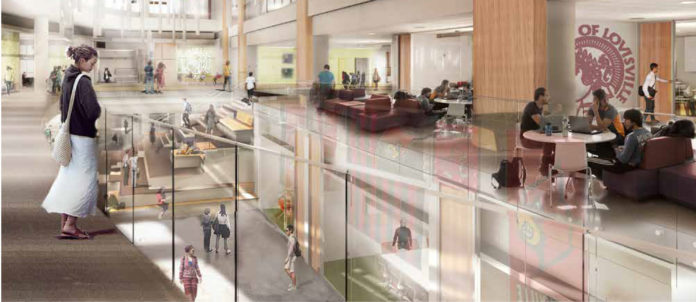 Editor's note: This story is the third in a series to be presented throughout the next several months about the progress being made on UofL's new classroom building. 
When the Belknap Academic Classroom Building opens in August, employees from the strategic enrollment management and student success office will be running the welcome desk.
That set up is purposeful, as the building itself is dedicated entirely student success. Granted, the definition of "student success" can be arbitrary, but for Jim Begany, vice provost for strategic enrollment management and student success, and Joe Dablow, executive director of student success, it comes down to:
Graduation rates
Retention rates
En route to that college degree, the enrollment management and student success team helps students adapt to college life and enhances their academic skills for a better college experience.
"We can define (student success) in other ways, such as the experience students have while they're here, if they get the services they need, if they get jobs after graduation or go onto grad school," Begany said. "But the graduation rate and the retention rate is ultimately the end result of most of the work we do."
To support these objectives, the building will feature classrooms and labs that facilitate active learning, as well as a student success center that offers academic support and advising all in one spot. This proximity should better enable the work Begany, Dablow and team are doing to reach UofL's goals.
"Now, we have staff all around campus and I am looking forward to being in one place. The building can be a starting point for us to make sure we're efficient in making enhancements and providing the services our students need," Dablow said.
Although we're months away from the official ribbon-cutting ceremony, it is important to note that UofL is already on track to hit its 6-year graduation goal of 60 percent by 2020. This is up from the 48 percent graduation rate from 15 years ago.
"We've been doing this great work already and have made significant progress already. What we're excited about when this building opens is to better create a synergy amongst these different areas," Begany said. "It won't make this job any easier, but having these folks in the same space will provide a better opportunity to engage our students."
Exploratory students
Dablow oversees the Student Success Center, which includes first-year programming efforts to promote retention; advising and support to about 1,500 "exploratory students;" and student success coordinators, who are available to help students overcome obstacles and complete the path to graduation.
The exploratory students fall into two main groups: pre-unit students, which include those who know what path they want to be on but haven't gotten there yet, e.g. a student who wants to be an engineer but hasn't yet been accepted to Speed; and students who are undecided majors.
"We have students come in and they say they want to do something, but they don't really know how and we're helping them get to where they need to be," Dablow said.
REACH
Resources for academic achievement – more commonly known as REACH – will also be located in the new building. The primary goals of REACH, overseen by Geoffrey Bailey, are to enhance or improve students' academic performance, help students transition to college life and support retention rates.
Bailey noted that the transition to the BACB will provide more immediate access to the entire team as UofL works to expand its services for the largest (predicted) incoming class in school history.
The unification of services, coupled with other student success-driven services and programs, will enhance the ability to provide immediate assistance to students and foster a high-touch, high-tech approach to academic support, Bailey adds.
"Students will be able to travel from many of their classes directly to our centers and staff, which helps reduce physical and other perceived barriers for access," he said. "Further, given our close proximity to our partners, we'll also see enhanced collaborations and referrals that will directly benefit students."
Bailey anticipates this ability to facilitate high-impact practices and provide personalized attention to set the bar for learning centers nationwide.
"Although student success has always been an essential part of REACH's mission, the new space and proximity of our partners will foster additional opportunities for us to collaborate and have an integrated approach to supporting student learning," he said.
Additionally, the new space will provide opportunities to expand the use of innovative academic support models such as peer-assisted learning (PAL). PAL provides academic support in historically difficult, introductory college courses.
"Given the nature and design of the active learning classroom spaces and support services in BACB, it offers the possibility of an additional tool in our arsenal of academic support mechanisms for UofL students. This is absolutely essential for all students, but it is especially true for serving student populations who have been historically disenfranchised or marginalized and for first-generation students," Bailey said.
"When a student is engaged, they're more likely to stay. We want to create that for them prior to getting here, when they get here and while they're here. That will give us a better opportunity of keeping them here," Begany added.
Recruitment tool
In addition to streamlining student success and engagement efforts, the team is excited about the recruitment possibilities the new building brings. The nearly 170,000-square-foot structure boasts a number of state-of-the-art features from active learning classrooms to technology-rich lab spaces.
"You can't not get excited when you look at the building and I'm excited about what that means for us in terms of recruitment," Begany said. "There is a real energy there."
"A picture is worth a thousand words," Dablow added. "We can take a prospective student on a walk-through tour and we don't even have to say anything."