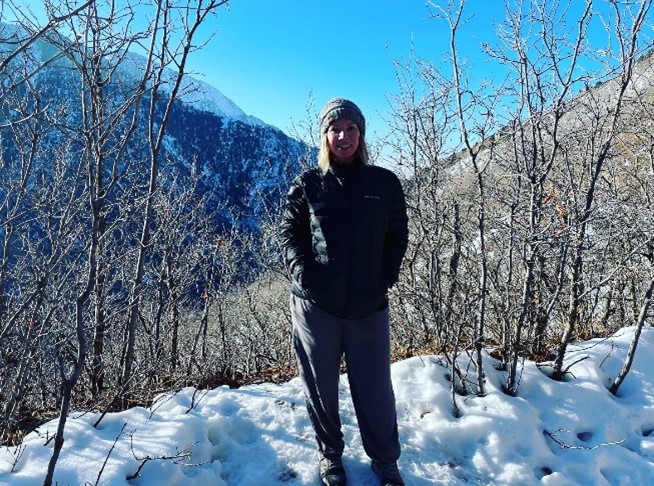 Twenty-seven years after leaving UofL, a United States Air Force Chief Master Sergeant is back, this time to complete her Online Master of Science in Health Administration degree.
In 1994, Melissa Johnson enrolled at UofL as a first-time, full-time undergraduate student. After realizing she was not ready for college and "needing to make something of herself," she enlisted in the Air Force in 1995.
Johnson has since had a diverse career. She served her first four years in the Air Force as a surgical technician, then retrained as an orthopedic technician and served in that capacity for 13 years, before serving as a first sergeant for over three years.
As a first sergeant, she served with the Civil Engineering Squadron, the Force Support Squadron, and the Communications Squadrons at MacDill Air Force Base, Florida, as well as with an Expeditionary Security Forces Squadron at Bagram Air Base, Afghanistan. She currently serves as the Senior Enlisted Leader for the Medical Group at Scott Air Force Base, Illinois, with Memphis, her 5-year old "fur baby."
Hailing from Shepherdsville, Kentucky, Johnson's 27-year career has included assignments at bases in Ohio, New Mexico, Florida, Texas, Nebraska, California and Utah. She has also served in Turkey and the United Kingdom and supported two humanitarian missions in Honduras. In 2020, she was promoted to Chief Master Sergeant, which by law is a rank limited to the approximately top 1% of the Air Force's enlisted force.
Johnson's deployments include Operations Uphold Democracy, Southern Watch, Iraqi Freedom, Enduring Freedom, Inherent Resolve, and Freedoms Sentinel. She's also earned many awards and recognitions in her Air Force career, including Squadron Non-Commissioned Officer of the Year, squadron Senior Non-Commissioned Officer of the Year of the Year, twice a Group First Sergeant of the Year, and a Wing Nursing Service Non-Commissioned Officer of the Year.
Johnson holds an associate's degree in Applied Science in Surgical Service Technology from the Community College of the Air Force, a bachelor of science in Finance and Management from Park University, and a master of Art in Procurement and Acquisitions from Webster University. 
When she retires, she wants to work with veterans, ideally with the Department of Veterans Affairs. This goal led her to begin exploring online graduate Health Administration programs.
"I was aware UofL is a Military Friendly Gold Designated school, which is important to me," she said. 
Although having just begun the M.S. HA program in fall 2022, Johnson said the program was the right fit for her, adding that she "felt welcomed" here. 
September 18 marks the 75th birthday of the U.S. Air Force.