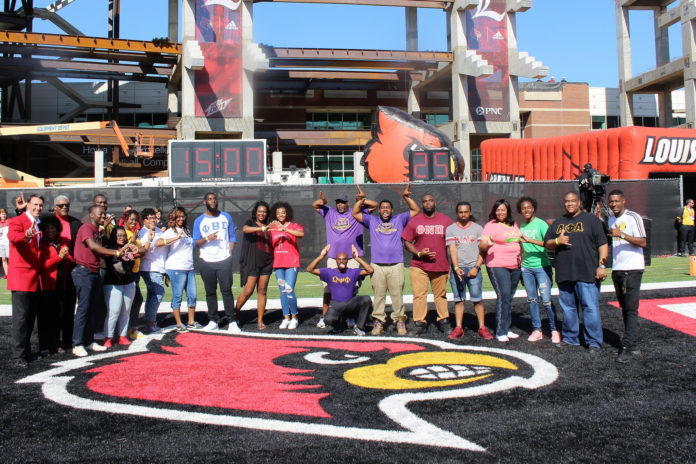 The University of Louisville is commemorating 25 years of having an official National Pan-Hellenic Council (NPHC) Council on campus. Hundreds of attendees, including current students and alumni, joined a celebration held during Homecoming Week to mark the occasion. 
Often referred to as the Divine Nine, NPHC is a collaborative organization of nine historically Black, international Greek lettered fraternities and sororities.
"Homecoming weekend was amazing and I am so grateful I was able to be apart of such a historical group of events," said Corey Thomas, NPHC president and member of Kappa Alpha Psi.
Throughout the years, UofL has strived to support NPHC growth on campus.
"It was intentional that we would have the Divine 9 here," said Michael Mardis, dean of students. "Our goal at the university is student success and one of the goals that I was charged with when hired was to create a vibrant campus life here at UofL. Part of that vibrant campus life is creating engagement opportunities so that students will have a greater opportunity to be successful."
The strategic effort to enhance NPHC began in 2006, when a suite in Community Park was developed so that NPHC organizations could have a gathering place on campus. In 2009, a committee outlined steps to address organizational sustainability, and essential steps to ensure future NPHC success on campus. In 2011, an official NPHC coordinator full-time position was approved.
"The fact that the Divine 9 is on the University of Louisville's campus is something beautiful to see," said Thomas. "The university does indeed recognize us for who we are and what we do as a black body." 
The Division of Student Affairs hosted a variety of NPHC events during Homecoming 2017 including:
The NPHC Step Show at The Louisville Palace
An NPHC/AAAC Step Show Reception @ SET
An NPHC 25th Anniversary Pre-game Tailgate which saw more than 400 attendees
On field recognition at the homecoming football game. Mardis and Mordean Taylor-Archer, vice president of Diversity and International Programs, welcomed a current student and alum from each NPHC organization, as well as the NPHC Student President and the NPHC Alumni President
An NPHC Group Worship Service at Bates Memorial Baptist Church
An NPHC 25th Celebration featuring national Keynote speaker Tish Norman on the topic: "A Photographic History of Black Fraternalism"
"I have never been to a tailgate before so it was really fun to be able hang out with not only my peers but also meet and mingle with alumni," said Thomas. "Walking out onto the field during the homecoming football game and to be recognized by the university was an experience of a lifetime. I hope that this is something that can be done every year because I think it is important for the NPHC to be noticed not only to gain exposure but to allow us to showcase unity on a predominately white institution."
The photo album for the entire weekend is located here.