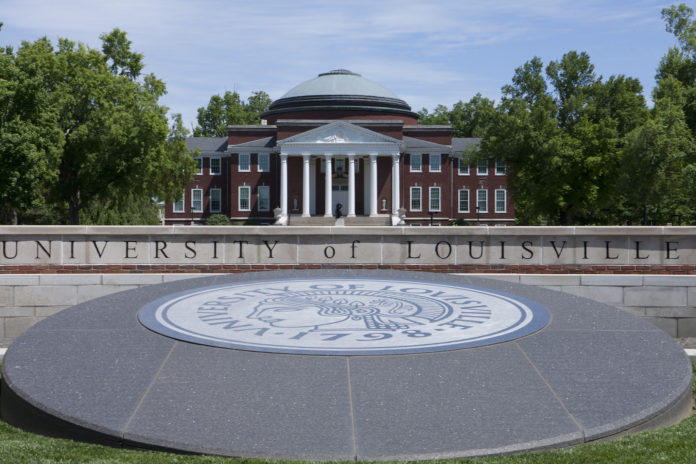 The Faculty Senate received an update Wednesday from Jim Begany, vice provost for strategic enrollment management and student success, about UofL's strategy to recruit and retain students.
Begany said Fall 2018 yielded our highest new student enrollment numbers, as well as our most academically prepared (measured by ACT scores) and the highest number of out-of-state students. These results come on the heels of three years of declining numbers.
Still, many challenges persist. The biggest challenge is the projected changes in population. The number of Kentucky residents between the ages of 15 to 19 is expected to decline significantly through 2023.
The strategic enrollment management and student success office is in the middle of a six-month planning process that includes adding St. Louis as a targeted regional market. Begany's full presentation is available online. 
Provost Beth Boehm also provided an update from her office, noting that 42 new proposals were received on how to best user leftover cash from the recruitment and retention fund. There is about $800,000 to $1 million left from that fund, and the proposals totaled about $3 million. Projects will be chosen based on how well they can be sustained.
Boehm said the administration is anticipating some changes coming from the CPE's program review process, but doesn't know what that looks like yet.
There will be a push to do more 4+1 programming on campus. Right now, Boehm said UofL's approach to 4+1 (achieving a master's degree in five years) is one of the most successful programs in the region and we would like to build on that.
Rehan Khan has been named as the new vice provost and chief information officer. Khan comes to UofL from Massachusetts, where he worked as a technology adviser with a specialty in higher education for a large technology firm. He has 27 years of experience working in higher education, having held information technology positions at Northeastern, West Virginia University, the University of Georgia, and at the medical campuses at Emory and Dartmouth. Khan's appointment is effective Feb. 15, contingent upon approval by the Board of Trustees.
Katherine Stevenson, who has directed IT since August, will return to her permanent position upon Khan's arrival. Stevenson offered an update from IT for the group. Major initiatives underway include a People Soft Campus Solutions upgrade scheduled for March 8-16. Also, UofL is onboarding with Eduroam, an international coalition of academic institutions that allow for visitors to use their university's credentials on other campuses. The full roll out is expected to take place in the fall of 2019.
President Neeli Bendapudi called into the meeting from a CPE meeting in Frankfort. She provided a quick update on the strategic planning process, noting that there has been an overwhelming response from the campus community to participate – over 1,200 unique names were nominated or self-nominated for committee work.
Other reports
The Student Government Association provided an update on its initiatives, which are largely focused on safety. The association is adding lighting to Greek Row, and spending another $40,000 to add lighting and crosswalks in other areas of campus.
Krista Wallace-Boaz provided the Faculty Senate chair's report. Revenue for FY 19 as of December are up to about $22 million, while expenses are down to about $12 million. Institutional research is currently reviewing and updating our benchmarks. The last CPE-approved list of benchmark institutions was approved in 2005. Key areas of this review include:
Defining pool of peer institutions
Determining key metrics for comparison process
Assessing and compiling data for those metrics
Developing a flexible benchmarking tool to asses UofL and peer institutions based on updated institutional priorities and associated goals
The university's strategic planning process was formally launched on Jan. 24. Workgroups will focus on three main goals – making sure UofL is a great place to learn, work and invest.
Wallace-Boaz noted that she, Staff Senate Chair John Smith and SGA President Jonathan Fuller will hold monthly open houses on Feb. 18, March 18 and April 15 on the HSC Campus. Her entire chair's report is available online. 
The Commission on Diversity and Racial Equality (CODRE) is accepting nominations for the 2019 Presidential Exemplary Multicultural Teaching Award. The deadline is March 21. A link to the application is available online. 
Standing committee reports are available online. The next Faculty Senate meeting is March 6 in Chao Auditorium.