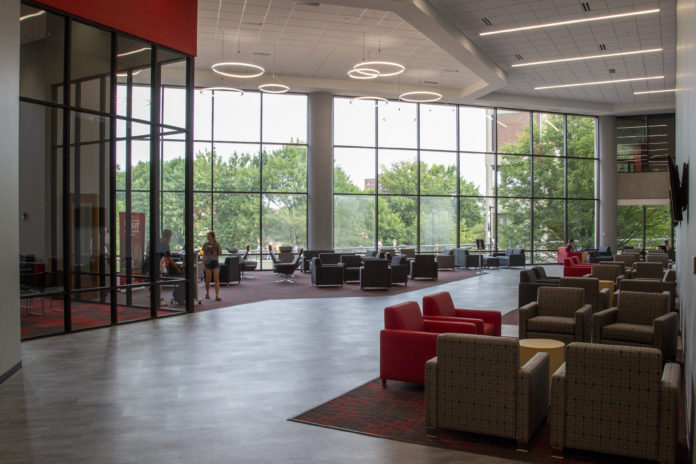 Staff senators concluded their annual retreat Monday, which included the introduction of a new mentor program in which new senators are matched with executive committee members who they can go to if they have questions or issues, and who can provide guidance and leadership.
Report on the SAC
Dr. Glenn Gittings, director of Student Activities Center and Special Programs, provided a tour and overview of the SAC renovations, noting that the $40 million project consisted of 80,000 square feet of renovated or expanded space, for a total of 412,662 overall square feet. Ninety percent of the building was redesigned, renovated or expanded. Some of the new features include:
More than 5,000 new meeting seats added
Grand Ballroom with almost 10,000 square feet with a capacity to hold 1,200
Multi-Purpose Room with almost 6,000 square feet with a capacity to hold 500
New Herman and Heddy Kurz Campus Visit Room for prospective students
16 new meeting/conference rooms with integrated audio/screens/projectors technology 
Multiple outdoor plaza areas
Renovated and expanded Campus Store
Expanded/enhanced dining facilities
"There is a lot of new lounge space and students are using that space. What we thought would happen is happening – students are coming out of the Belknap Academic Building and into the Marketplace area and sticking around," Gittings said. "It's a great space for students."
He added that the new space will allow for the SAC to host events such as doctoral hoodings and white coat ceremonies. A re-dedication of the SAC will be held Oct. 26 at 3 p.m.
Extended holiday break
Gittings and Staff Senate Chair John Smith announced that the Staff Senate presented an idea to extend winter break by an extra week to acknowledge the hard work the faculty and staff have been doing. That idea was approved by President Neeli Bendapudi. The university will close Monday, Dec. 17 through Tuesday, Jan. 1. This extension is on a one-time basis.
Premium increases
Todd Kneale, director of Total Rewards, announced that there will be increased premium rates starting Jan. 1, 2019, after four years without any increases.
Those monthly increases are:
EPO: 4% for employee only; 1% for employee/spouse/QA; 1.4% for employee/children; 1.2% for family. Employees covered in EPO represent 19%.
HRA: 4.3% for employee only; 2% for employee/spouses/QA; 1.4% for employee/children; 1.7% for family. Employees covered in HRA represent 20.7%.
PPO: 4.6% for employee only; 1.9% for employee/spouse/QA; 1.4% for employee/children; 1.9% for family. Employees covered in PPO represent 50.5%.
HRA: 4.6% for employee only; 2.1% for employee/spouse/QA; 1.5% for employee/children; 1.9% for family. Employees covered in HRA represent 9.8%.
"We are self-funded. These increases are a function of all of our claims and what is projected next year," Kneale said.
As a way to offset the pain of these increases, HR VP of HR John Elliott said the department is working with finance to implement a $14.48 kickback for those who make $36,000 or less. This would affect about 1,040 people.
"The insurance increase is $1.7 million that was not budgeted. That's why rates will be passed onto us. But we are working to find a way to protect those who are the most vulnerable," Elliott said.
Elliott concluded by encouraging employees to take advantage of the wellness resources on campus, to help the university save more money on health costs. He said 28% of employees are actively engaged with our wellness resources and the goal is to get to 35%.
Get Healthy Now update
Patricia Benson, AVP for Health, Wellness and Disease Management, provided a brief history and update on Get Healthy Now, including its partnership with UofL Physicians to offer the Health Management Service program. Ketia Zuckschwerdt, RN, program manager, said the program offers employees an opportunity to save money on their premiums and on reduced costs for medication. For example, those in the program would pay $20 for insulin, versus $60.
There are five conditions that qualify for eligibility in the program: diabetes, high blood pressure, high cholesterol, COPD and asthma. 
"We are not only trying to save you money, but also help you navigate the complex health care system. We take a holistic approach and help you with care management and goal setting, and we follow up with you," she said.
More information about the program is available online here.
SGA report
Wyatt Harris provided the SGA report. The groups has started working on a new strategic plan. The current plan, adopted in 2008, will expire in 2020. The students are also working on safety initiatives, a new campus night shuttle that runs from 10 p.m. to 4 a.m. six nights a week, and a food pantry on campus for those who are food insecure.
The Faculty Senate report is available online. 
Sandy Russell provided the Staff Grievance report, noting that 33 people have been helped since last September.
John Smith provided the Chair's Report. He is a member of the inauguration committee and said the Oct. 4 event will be focused on community building more than pomp and circumstance. Smith is also a member of the President's Cabinet, along with deans, vice presidents, the Faculty Senate chair and the SGA president.
"It is one thing to be invited into the room. It's another to feel like you're wanted there and that your input is valued and that is how it feels with (President Bendapudi). She will stop meetings to ask us for our input," Smith said.
Smith said a member of the Council on Postsecondary Education spoke during the last cabinet meeting, providing an overview of the state's new performance-based model.
"That is how we will be funded in the future and it gives all of us skin in the game. We need to emphasize that to our colleagues," Smith said.
The next Staff Senate meeting is Oct. 8 on the HSC Campus.