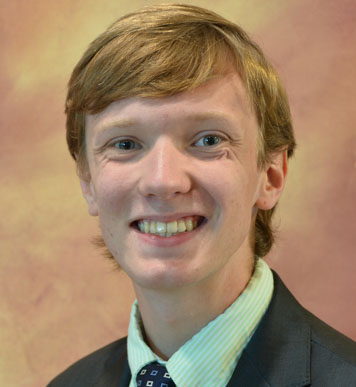 Michael Gaunt was selected as the December 2020 Speed School of Engineering Banner Bearer because of his exceptionally high GPA in both his BS in Mechanical Engineering program and his minor in Spanish, according to Gail DePuy, associate dean of Academic and Student Affairs.
Gaunt, a Pikeville, Kentucky, native, has completed three co-op rotations at Midea America Research Center where, among other tasks, he led projects including innovative new feature design and laboratory planning, applied CAD design, FMEA analysis and data management skills, and communicated with both local and Chinese teams to ensure project needs were met. He is currently employed at Midea as a part-time consumer appliance R&D engineer.
Phil Hombroek, his co-op supervisor, called Gaunt one of the best students he has ever worked with in 30 years of engineering.
"He demonstrates all the necessary attributes that are expected of a seasoned engineer and surpasses expectations by over-delivering on projects he worked on," Hombroek said. 
Gaunt participated in the 2018 UofL International Service Learning Program in Cusco, Peru. During the trip, the students inventoried and mapped the irrigation systems for high altitude farming communities, said Thomas Rockaway, Professor, Civil & Environmental Engineering. 
"Michael helped lead the assessment teams and coordinated the student work efforts," he said. "Being fluent in Spanish, he was instrumental in integrating the students into the Peruvian community, making the trip a positive experience for all."
Gaunt has been involved in several activities at UofL and the Louisville community including Engineers without Borders, Cardinals for the Appreciation of Musical Theatre and Singing Cardsmen.  At Sojourn Community Church, Gaunt has been a "SojournKids" volunteer for events hosted by Student Government, Engage Lead Serve Board and Student Outreach Uniting Louisville. 
Story written by Holly Hinson.