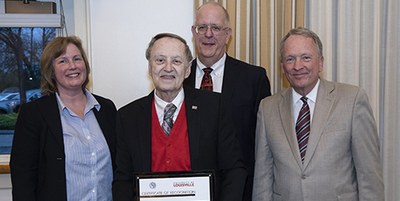 Dr. Larry Tyler, an Engineering Fundamentals professor in the J.B. Speed School of Engineering, was recently recognized by UofL for 55 years of teaching at the University of Louisville.
Tyler is one of few professors to achieve 50-plus years of teaching service.
"I set a record every day," he said. "And I'm probably far ahead of even the faculty that have been here for 50 years in terms of semesters, because Speed School is a yearly school."
Tyler has taught a variety of courses throughout the years, beyond the introductory coursework that he currently teaches. Tyler has touched a lot of lives during his tenure, including some of his contemporaries in the Speed School such as former interim dean John Usher and Department of Engineering Fundamentals Chair Patricia Ralston.
"I entered Speed in the fall of 1975, and I clearly remember the classroom environment he created. All were encouraged to be dedicated, to be disciplined and to achieve. He showed us more respect than many of us had for ourselves. His obvious concern for students' learning and success drew me to seek his counsel, and he continued to mentor me after I completed the mathematics sequence," Ralston said. "He gave me advice that has served me life-long: 'Stay focused on clearly defined goals, work steadily to achieve them, and continually re-evaluate to improve.' He validated my own interest in teaching and convinced me to go to graduate school. He has been a motivating and inspiring force behind all I have been able to achieve at Speed School."
Usher adds, "Larry Tyler is an engineering hero and living legend here at Speed School. He has positively impacted many thousands of students, including me way back in 1977, by being an amazing teacher and mentor. He still gets here early and works hard every day with energy and passion for engineering education that is truly inspiring. I am so glad to have had the chance to work with him and look forward to many more years."
Tyler has achieved a number of accomplishments, including hosting a variety hour television series on local television, where he employed his engineering acumen to the then-nascent field of audio production. He was there at the inception and development of the Department of Engineering Fundamentals, a relatively unique program that focuses on engineering pedagogy, while reinforcing basics.
During his tenure, the world has undergone radical, if seemingly glacial changes, from the use of chalk and whiteboards, to in-class projectors and into the digital age. While the technology and methodology evolve with the times, the constituent student body remains relatively static. Via his role in Engineering Fundamentals, Tyler not only sees a majority of the students coming in, but is happy to help them transition into the grind.
"When they ask me if they ask me if the students are any better or worse now, I say no. Some of the differences I've noticed is that they're in to computer games more and maybe less athletic. We didn't have people going around with a computer in their face. The students haven't gotten worse. ACT scores have improved, but I'm not sure they are a lot better than they were. We're getting better students, but we're also getting more students," he said. 
Since 1963, Tyler has worked continuously for three semesters per year, without even one sabbatical during that time frame. That singular dedication to his craft underscores a rigorous, and almost zen-like methodology that drives his passion to continue to grow and evolve his teaching. 
"I learn something new every day. I've learned there are a lot of people smarter than I am coming through as students." Tyler said. "I've probably learned how to convey concepts to students efficiently and certainly better. I'm better equipped now than when I started teaching of being able to convey concepts and trying to get students to learn those, relate to, and learn."
For Tyler, there is no endgame in sight, other than to continue his work as an educator as long as he physically can.
"You're always one dean or chair away from retirement." Tyler said. " As long as my health is good, I'll be here."