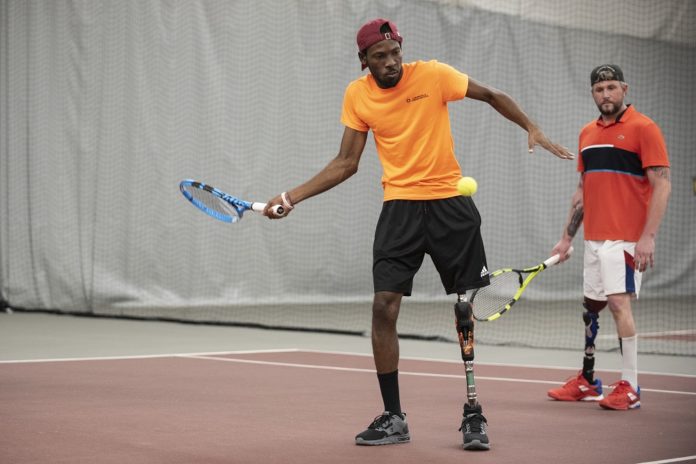 For the first time in years, Dionte Foster played tennis on two legs.
The Special Olympics gold medalist traveled to Louisville last week from his native St. Kitts in the Caribbean to receive pro bono clinical care from University of Louisville Physicians and a sports prosthesis from Louisville Prosthetics that would retail for about $61,000.
While training for the 2015 Special Olympics World Summer Games in Los Angeles, Foster was diagnosed with osteosarcoma, a type of bone cancer, which required his left leg to be amputated above the knee.
"It was devastating because tennis is my world. It almost felt like it was the end of life," Foster said. "But, I became determined to not give up. I've been living life to the fullest ever since and trying to be strong for me and my mom."
Foster, 24, not only lost his leg, but the cancer had spread to his lungs, requiring surgery and chemotherapy, which he received in New York because adequate treatment was not available in the Caribbean.
He continued to play tennis, albeit with great difficulty, on one leg. Special Olympics officials started raising money to get Foster a prosthetic leg and news of the effort reached Matt Holder, MD, MBA, chief executive officer of the Lee Specialty Clinic in Louisville, who also serves as the global medical adviser for Special Olympics.
Seeking help, Holder contacted Priya Chandan, MD, MPH, assistant professor in the Division of Physical Medicine & Rehabilitation in UofL's Department of Neurological Surgery and a Special Olympics Kentucky board member. Through the UofL connection, Matthew Adamkin, MD, UofL Physicians-Physical Medicine & Rehabilitation, was tapped to provide care at no cost to Foster. Adamkin prescribed the prosthetic and worked closely with licensed prosthetist and pedorthotist Wayne Luckett of Louisville Prosthetics to ensure it would meet Foster's needs. Luckett obtained specialized components for the prosthetic through donations from Freedom Innovations, Martin-Martin Bionics, Endolite North America and American Prosthetics.
Foster must learn to trust his prosthetic, placing more weight on it in order to improve his movement.
"It's hard work to wear a prosthetic," Luckett said. "It requires 100-percent more energy to move compared to able-bodied people. He's already an athlete and in good shape, but we're going to get him in better shape so he can return to the tennis courts and be competitive again."
Also during his time in Louisville, Foster underwent a CT scan of his chest with support from the Mary Jane Gift Quality of Life Fund through the UofL James Graham Brown Cancer Center. The fund was established by Tommy and Alex Gift to honor their mother after she lost her life to cancer.
Foster received good news; his CT scan showed no evidence of cancer. Megan Nelson, MD, UofL-Physicians-Physical Medicine & Rehabilitation, who specializes in cancer rehabilitation, helped organize the CT scan and arranged for Foster to meet with a sarcoma support group.
After a couple days of physical therapy, Foster trained on the tennis court with Rex Ecarma, UofL men's tennis head coach, and Jeff Bourns, an amputee and Adapted Touring tennis player who holds a Top 5 World Rank (Category A) on the TAP World Tour.
The effort by multiple organizations to improve Foster's mobility and help him return to competitive tennis was extraordinary, Adamkin said.
"I've never been a part of anything like this," Adamkin said. "Dionte's strides have been remarkable. With every day, he will get more confident and secure with the prosthesis."
Foster said he is determined to make his story an example that inspires others to overcome adversity.
"It's a game changer," Foster said of receiving his new leg. "This has been an honor and I'm really thankful. It's amazing to know I have a leg to go back home with and put my crutches aside."